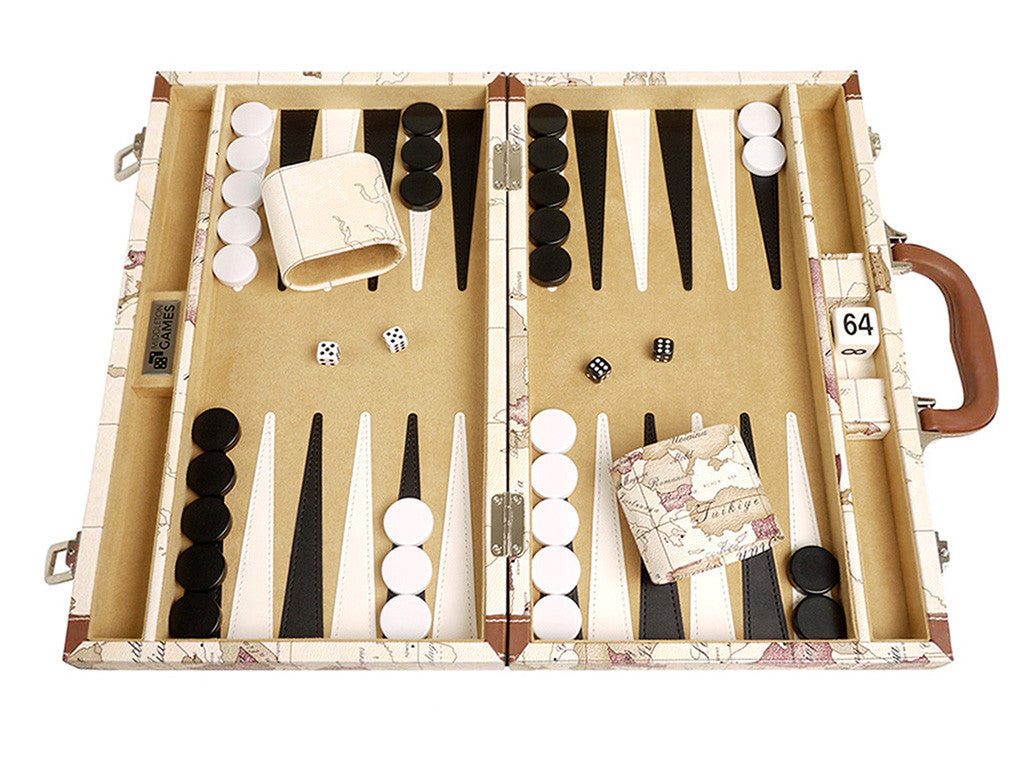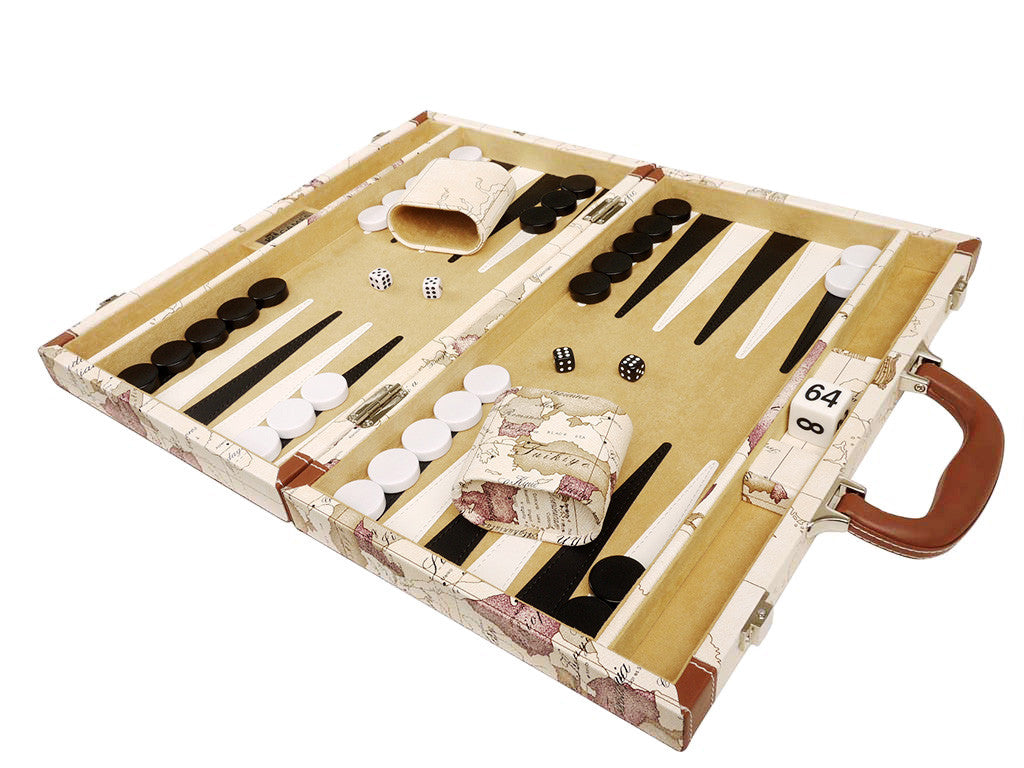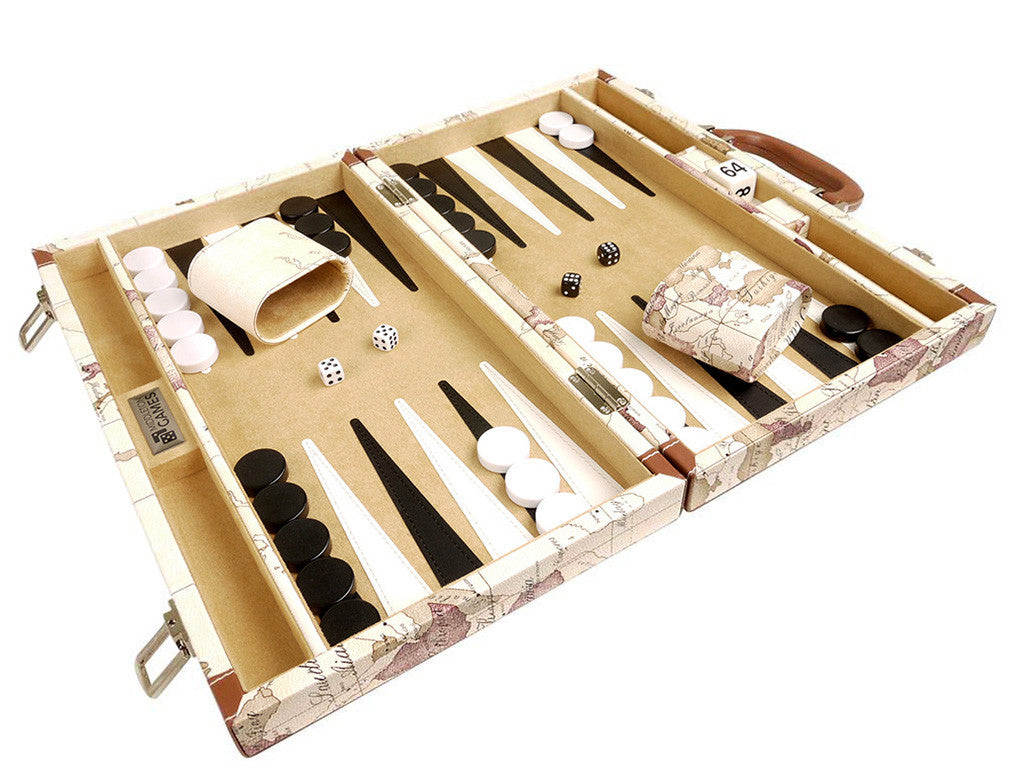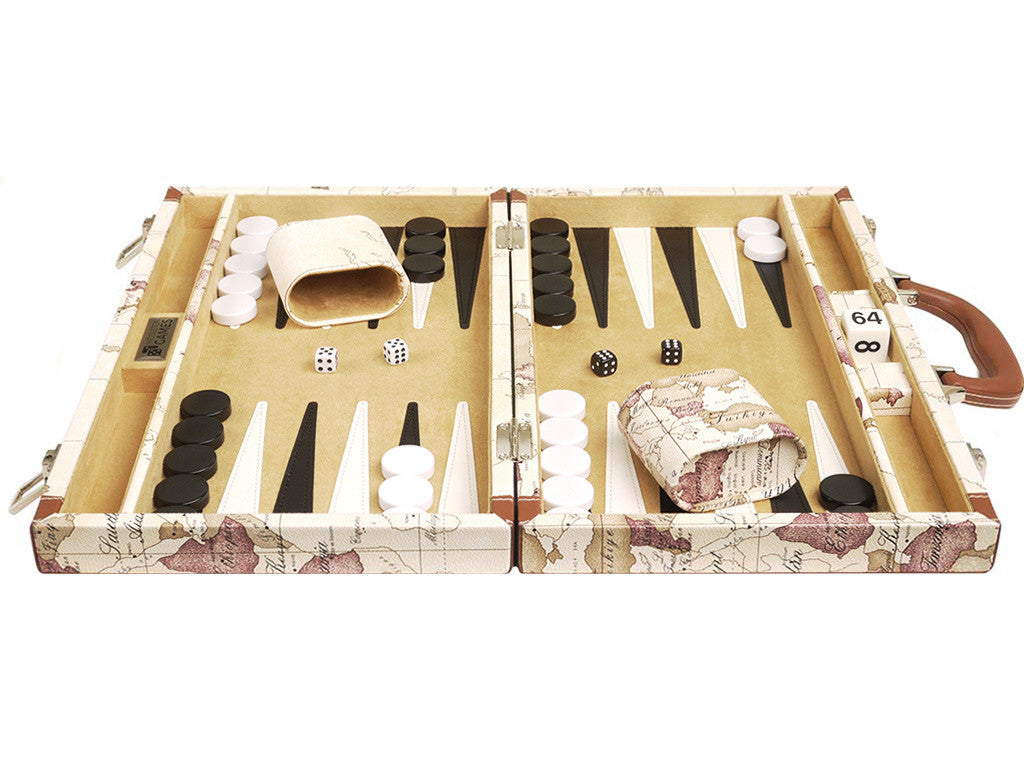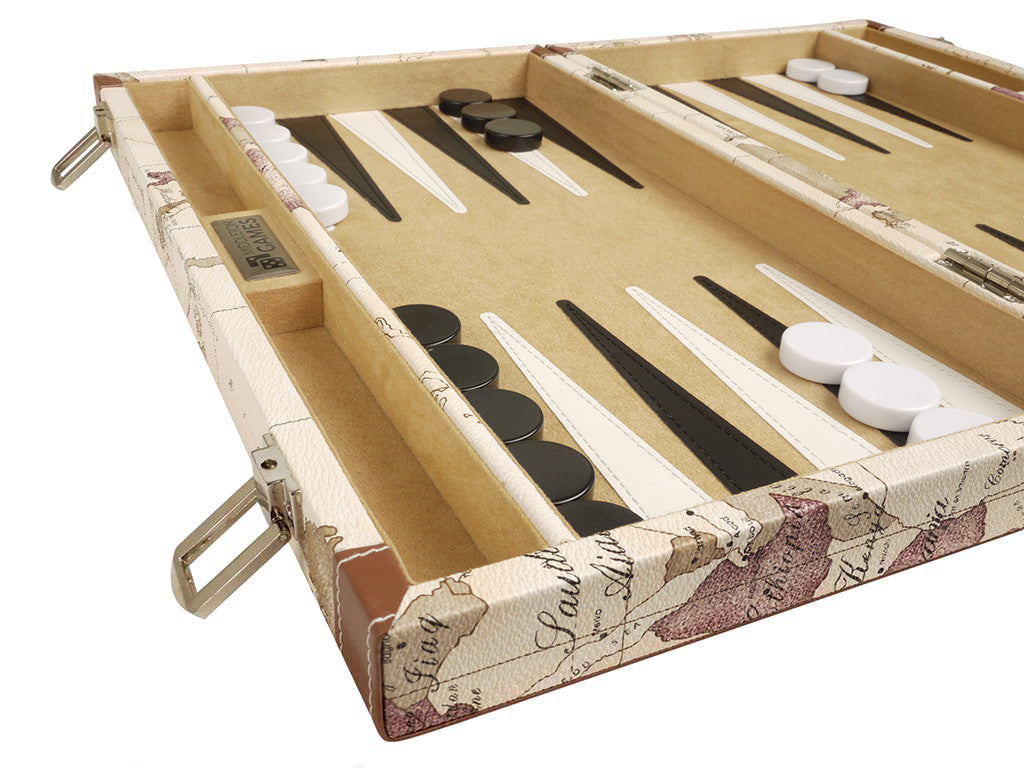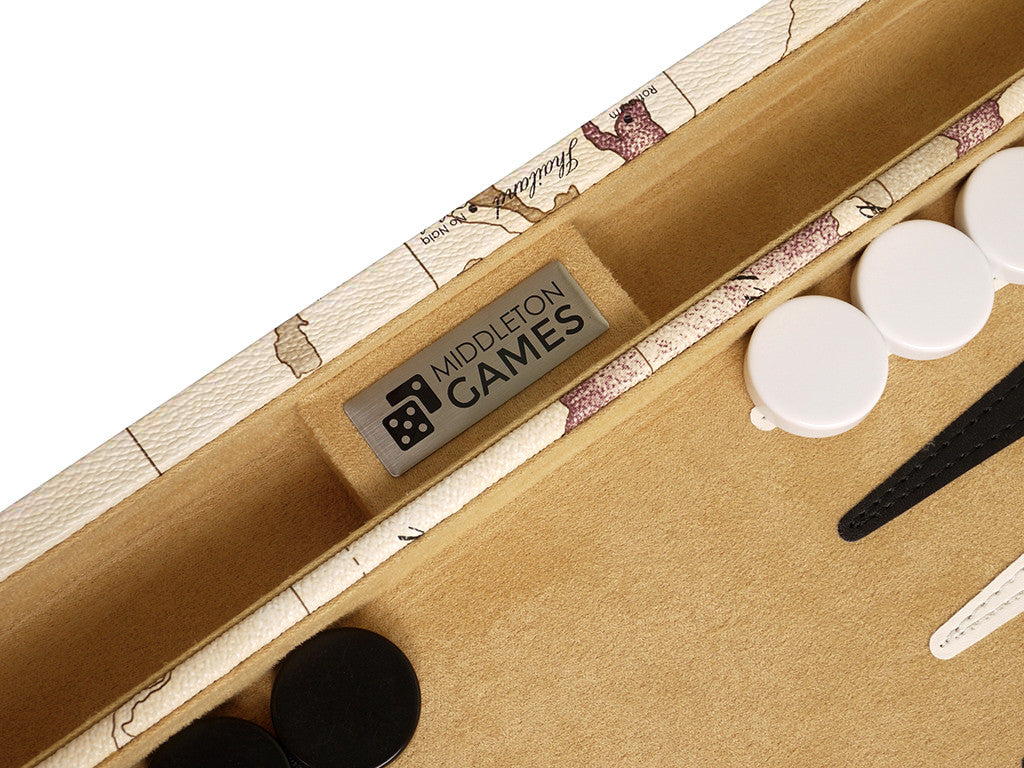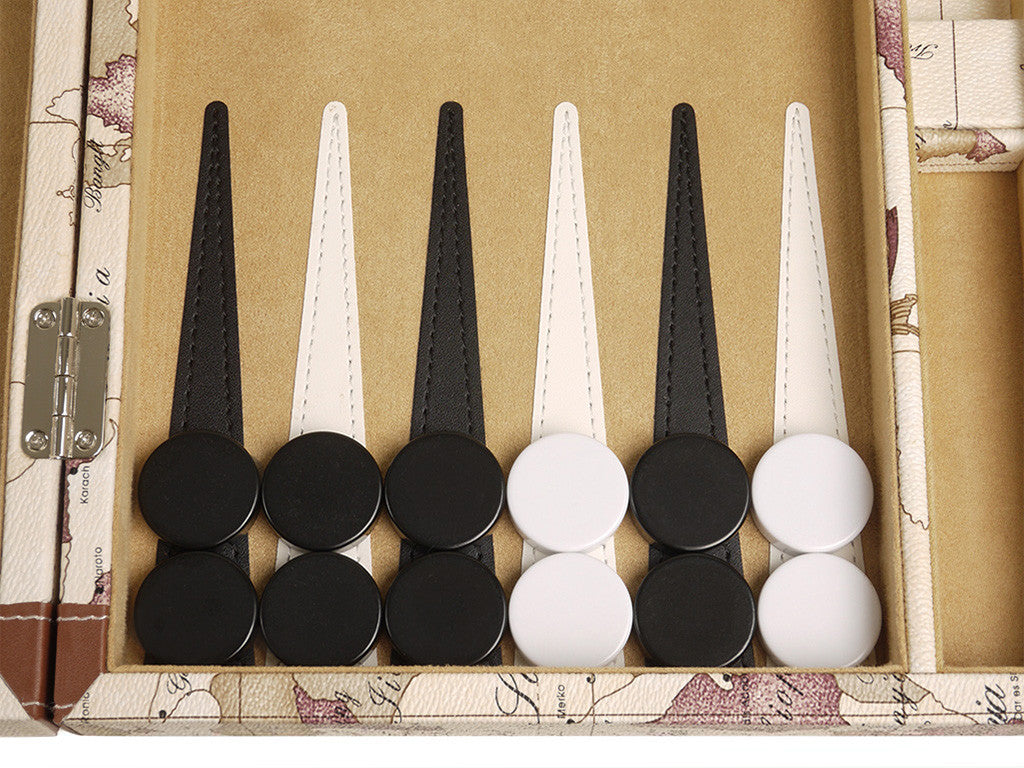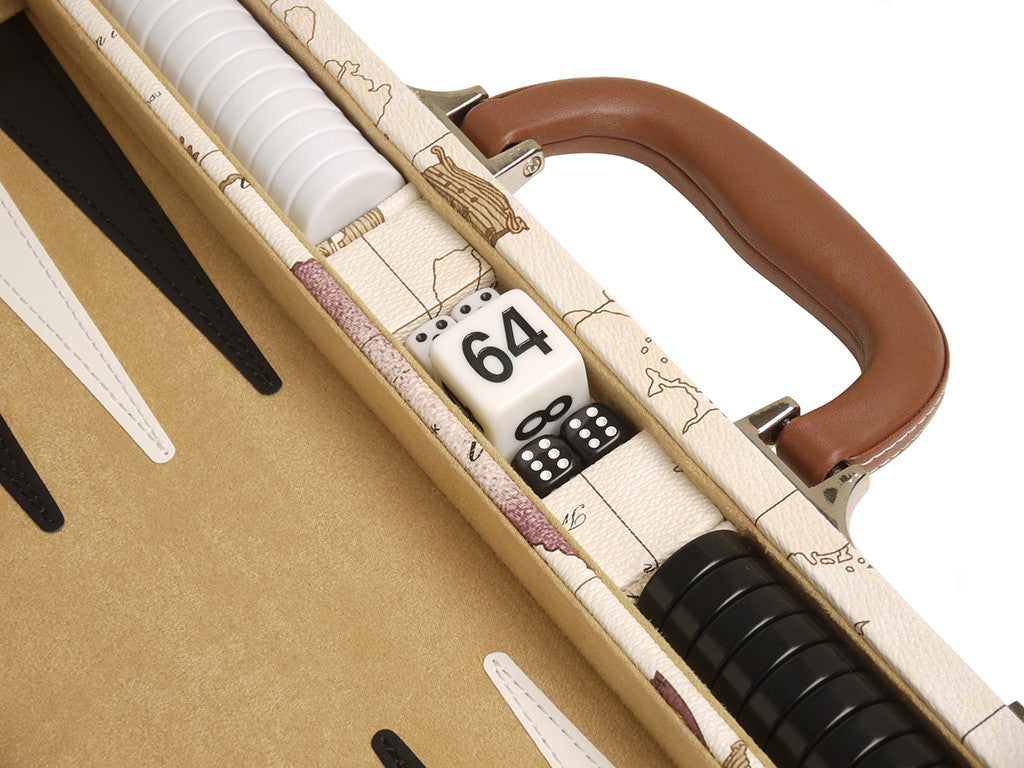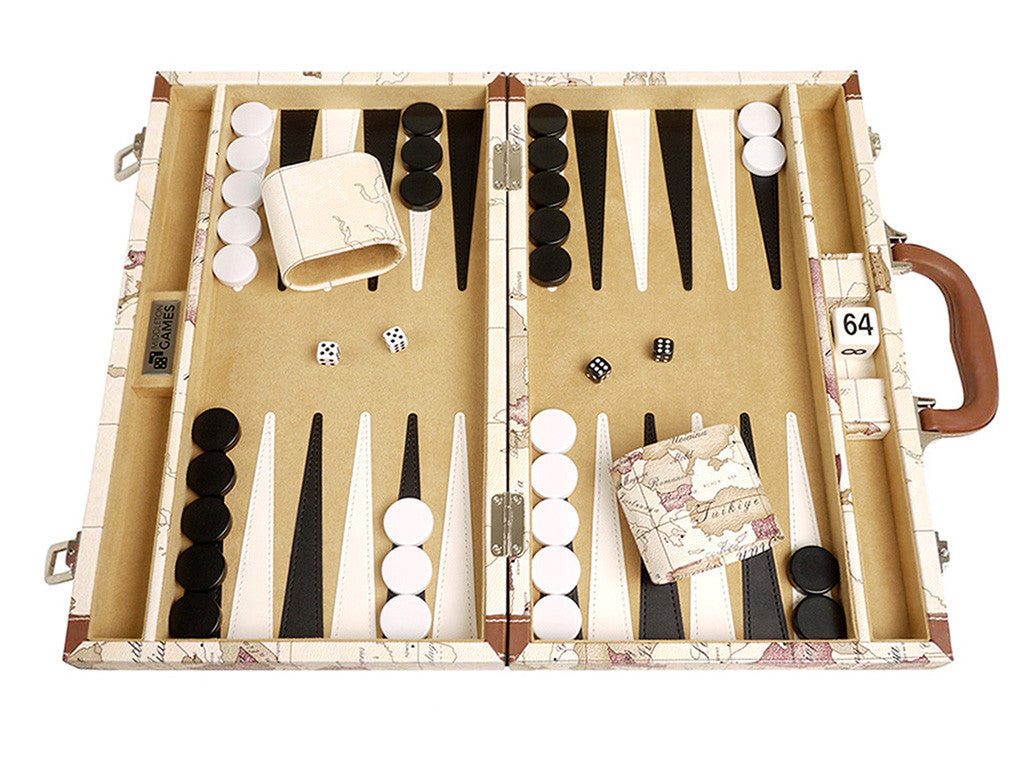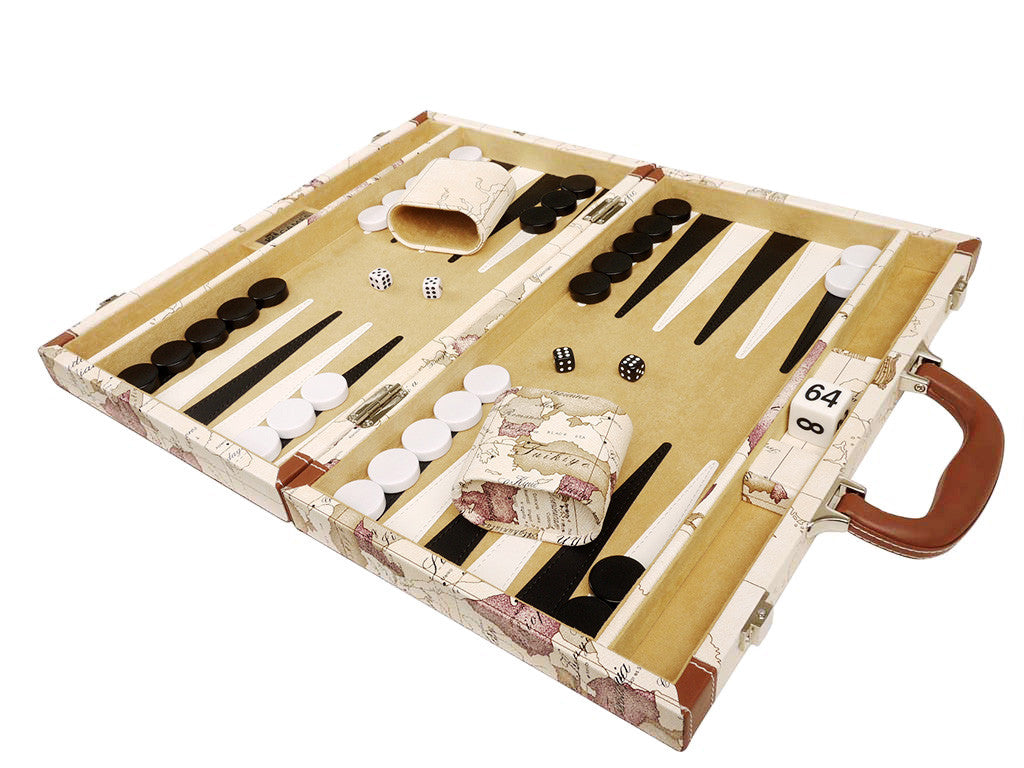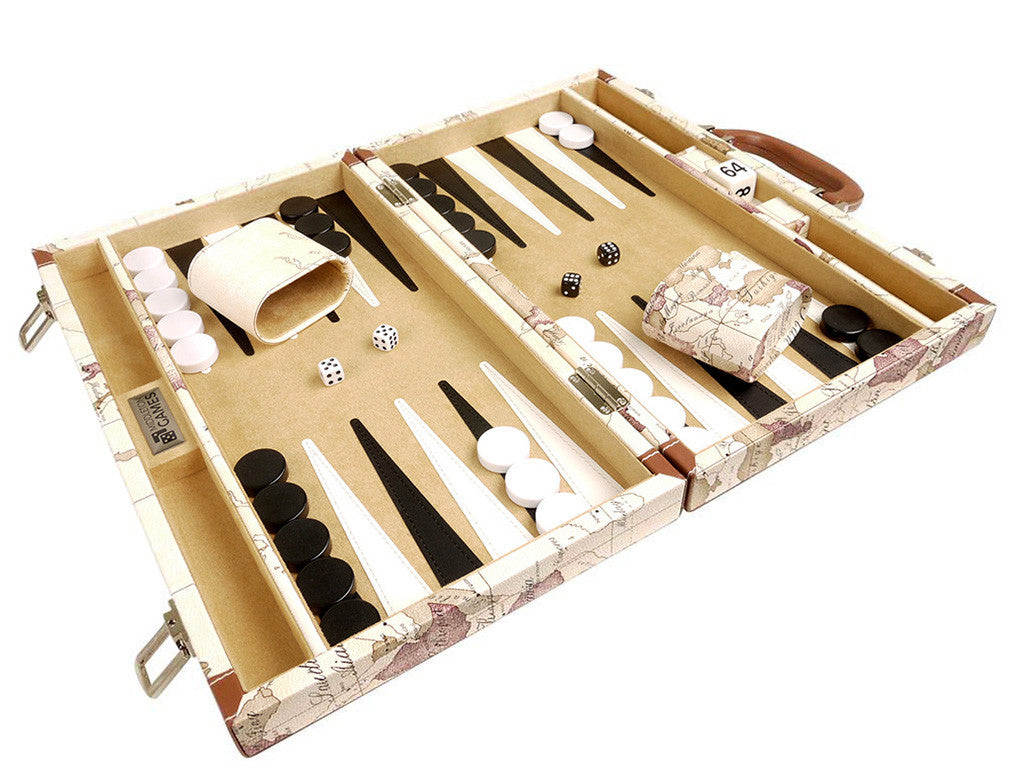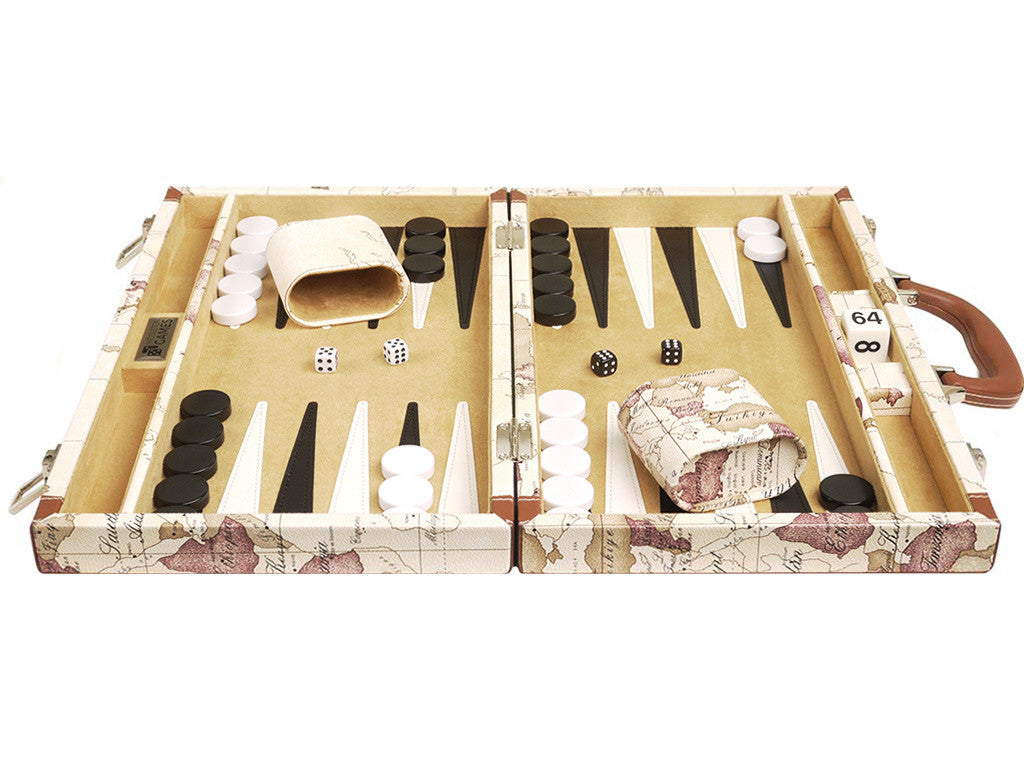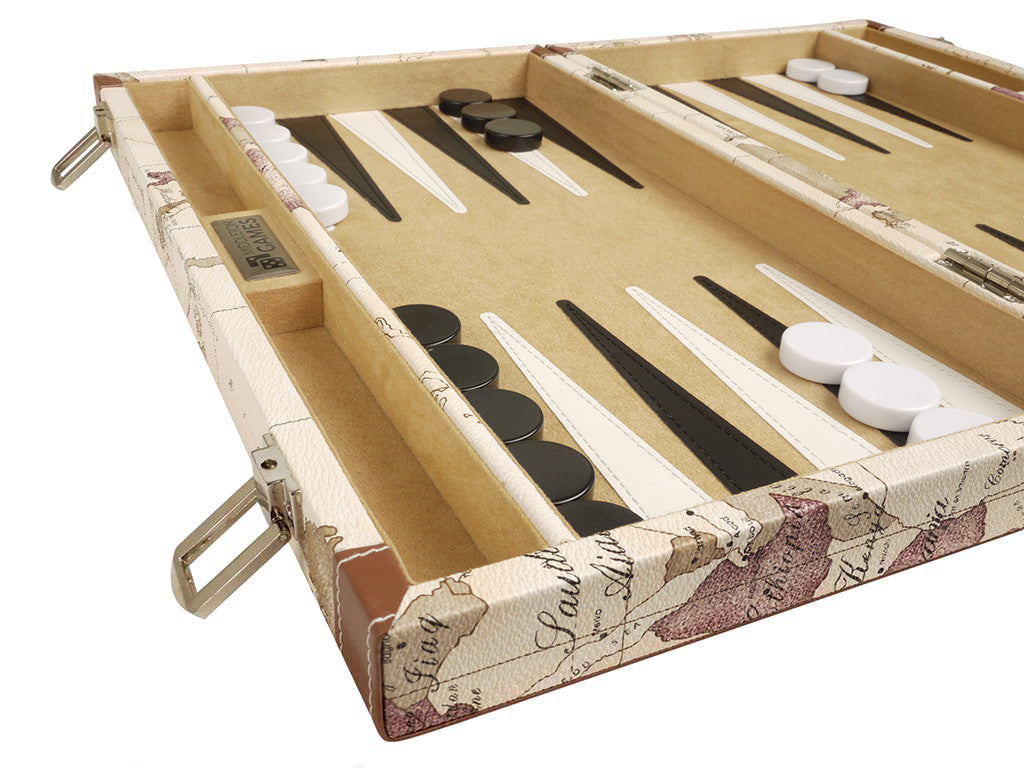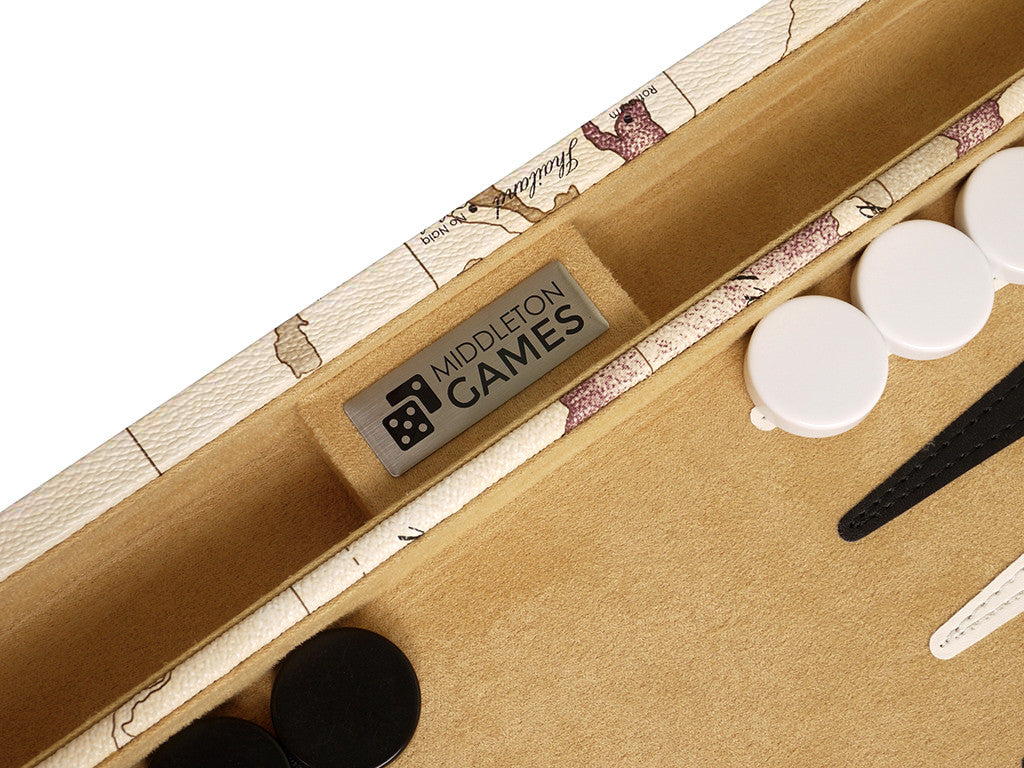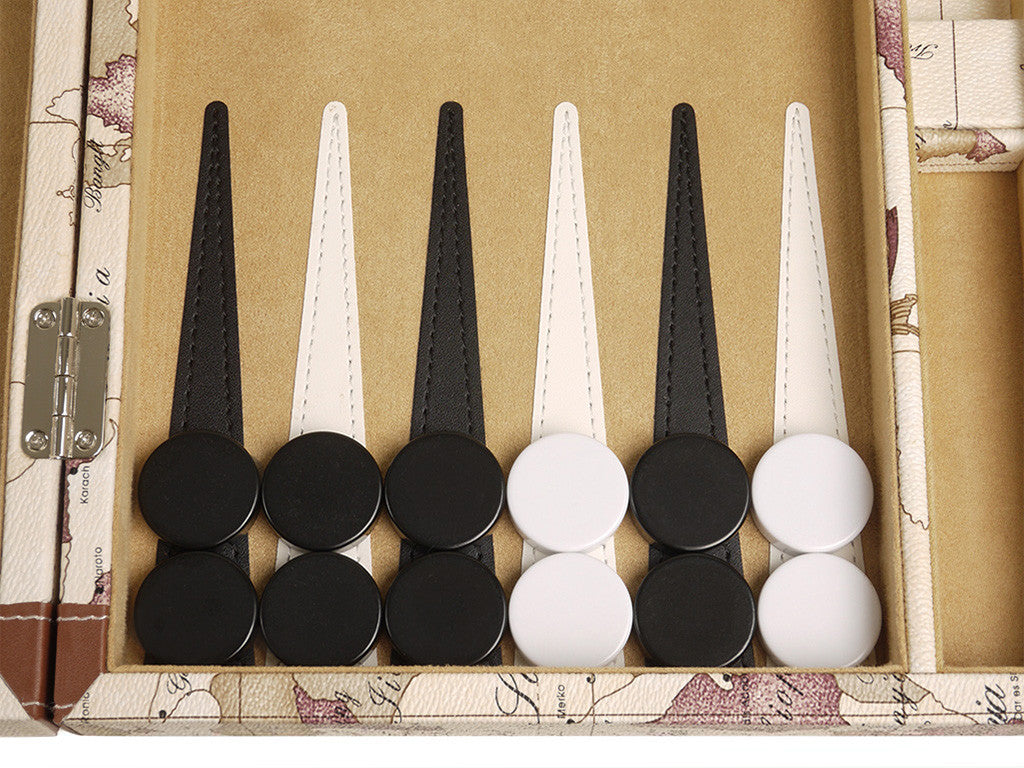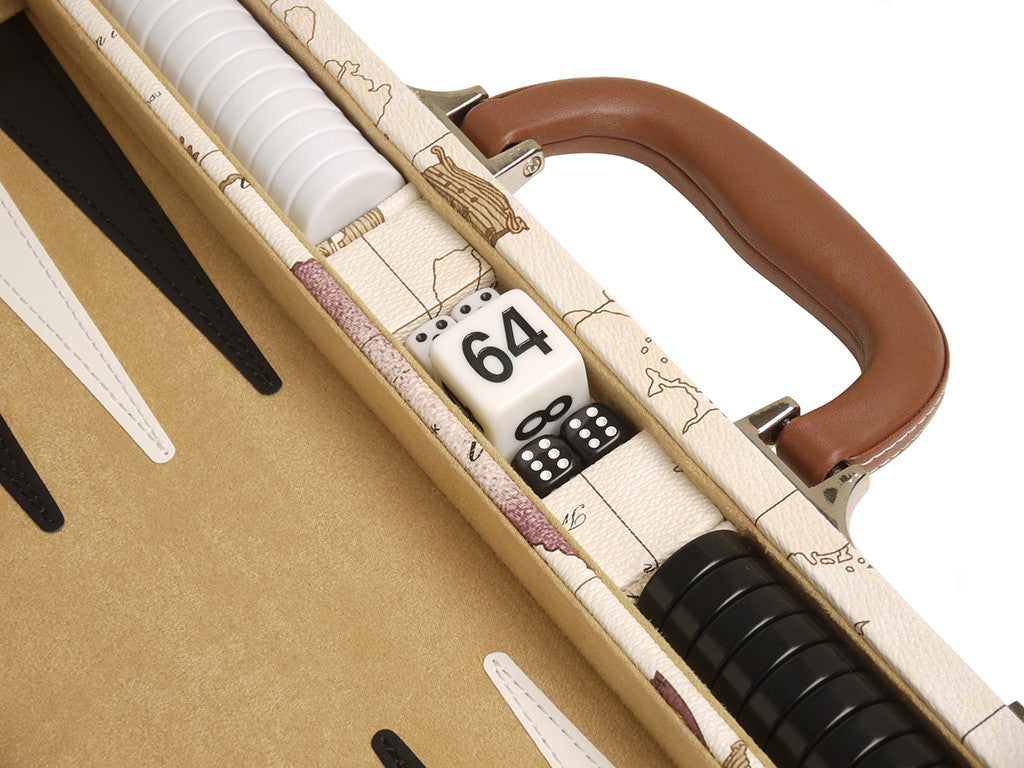 On Sale
15-inch Map Backgammon Set - White Board - EUR
Elegant and classy old world map design. Ultra plush faux-suede playing surface.
Measures 15" x 9" x 2 1/2" when closed; Measures 15" x 18" x 1 1/4" when open.
Comes with top quality accessories: 1" x 1/4" checkers, 1" doubling cube, 1/2" dice and matching dice cups.
Folding attache style. Easy to carry, easy to store.
Fun to play. Good for indoors and outdoors.
Are you looking for something unique and out of the ordinary? Take a moment to explore this magnificent backgammon set from Middleton Games with antique old world map design.

With a long history of manufacturing quality board games, you will appreciate the exquisite materials and fine craftsmanship that have gone into this product.

The rugged and sturdy luggage style handle is a noticeable upgrade compared to other backgammon sets. The playing surface is an exceptionally plush faux-suede (you'll stroke it over and over again!) and checkers glide smoothly from point to point.

Speaking of checkers, you'll appreciate the large 1" x 1/4" checkers that come with this backgammon board. In addition to being hefty, you'll also appreciate how well they fit on the playing surface when you have 6 checkers side by side with almost no gap between them.

The side pockets provide a snug fit when packing up the game, making opening and closing the case a breeze. Quality materials and quality craftsmanship rolled into one very stylish backgammon board.
Backgammon Set Dimensions:
Closed Length: 15" Width: 9" Height: 2 1/2"
Open Length: 15" Width: 18" Height: 1 1/4"
Backgammon Set Materials:
Case Material: Leatherette
Case Color: Map Design - White
Field Material: High Faux Suede
Field Color: Tan
Points 1 Color: White
Points 2 Color: Black
Clasp Style: Nickel Plated Latch
Backgammon Stone Dimensions:
Diameter: 1" (27 mm)
Thick: 1/4" (8 mm)
Material: Uria Stone
Stones 1 Color: Black
Stones 2 Color: White
Backgammon Dice/Cube Dimensions:
Dice Size: 1/2"
Cube: 1"
Dice Set 1 Color: Black
Dice Set 2 Color: White
Cube Color: White
Backgammon Cup Dimensions:
Cup Height: 3" Width: 1 1/2" Length: 2 3/4"
Cup Exterior: Leatherette
Cup Interior: High Faux Suede
Cup 1 Outer: Map Design - White
Cup 1 Inner: High Faux Suede
Cup 2 Outer: Map Design - White
Cup 2 Inner: High Faux Suede
About Middleton Games

Middleton Games' Backgammon Sets Featuring Map Designs
Explore Middleton Games' exclusive collection of Map Backgammon Sets, available at American-Wholesaler. Renowned for their budget-friendly yet stylish and high-quality gaming sets, Middleton Games offers a captivating selection that blends quality with affordability. Whether you're a novice or seeking a memorable gift, these Map Backgammon Sets are designed to charm and captivate.
The antique map design on these sets transports you to an old-world era, adding an extra layer of intrigue to your gaming experience. The classic brown and white colors enhance the vintage aesthetic, evoking timeless sophistication.
Available in 15-inch and 18-inch sizes, catering to various preferences, these fully equipped sets ensure immersive gaming. The folding attaché style ensures easy carrying and storage, allowing you to indulge in backgammon wherever you wish.
These sets are meticulously crafted using premium leatherette material, providing a truly luxurious texture. The addition of nickel-plated latches adds a layer of durability and security during transport. Notably, the rugged luggage-style handle stands out as a feature that enhances both aesthetics and durability, ensuring convenient transportation. Furthermore, the plush faux-suede playing surface guarantees a seamless experience, allowing checkers to effortlessly glide with each move.
Crafted from Uria Stone material, the checkers boast exceptional durability, ensuring they remain free from breaks, scratches, or cracks. Checker size corresponds to the dimensions of the board: larger boards feature larger checkers. The 15-inch board includes 1" (27 mm) checkers, while the 18-inch board comes with 1 1/4" (32 mm) checkers.
Testimonials from customers, including the positive review by Hilde Muller, serve as evidence of their contentment with the product. Hilde Muller's review states, "Our entire family has taken pleasure in this exquisitely crafted board. Its durability and ideal size are impressive, and the map design on the case adds to its charm."
Available exclusively at American-Wholesaler, Middleton Games' Map Backgammon Sets embody historical elegance and expert craftsmanship. The blend of durability, size, and captivating design makes these sets valuable additions to any entertainment collection. Immerse yourself in enhanced gameplay with the old-world map design. Plus, enjoy the convenience of FREE shipping in Europe for these remarkable sets.