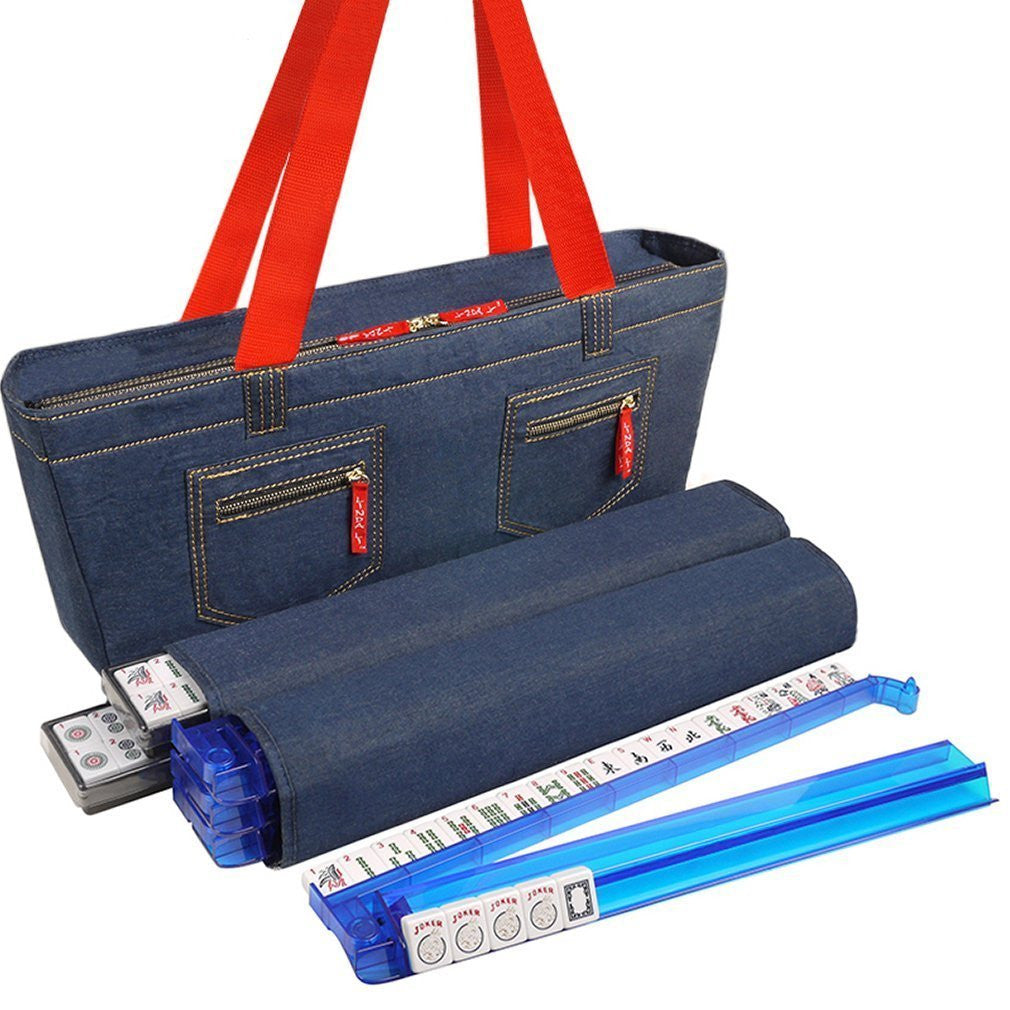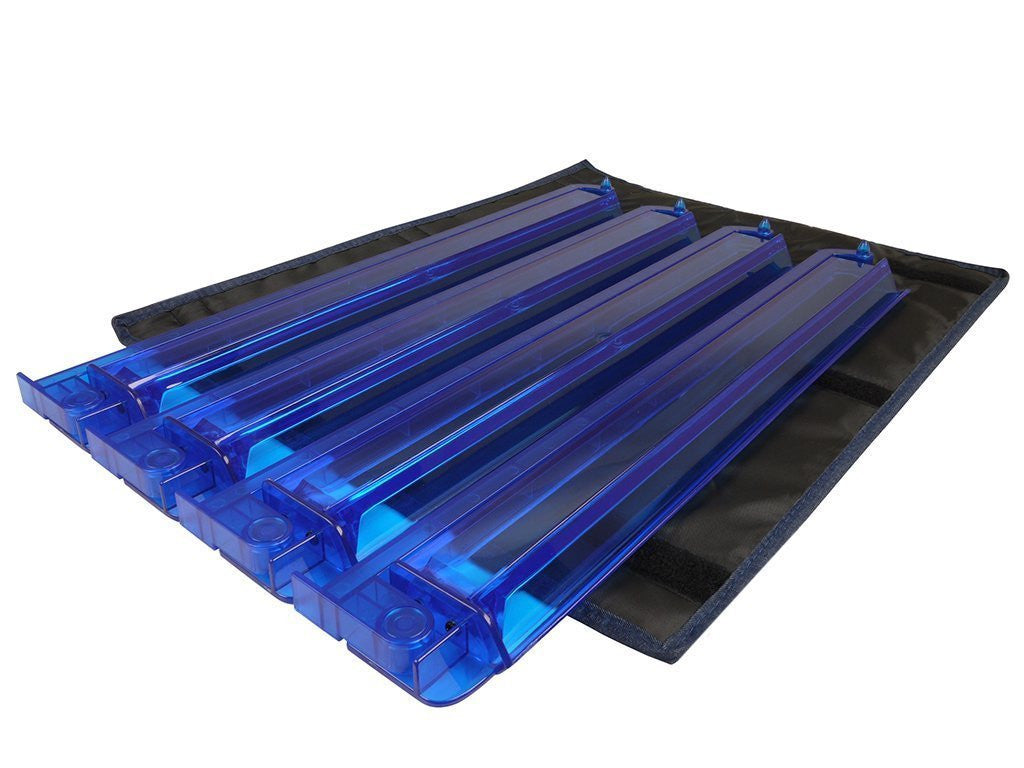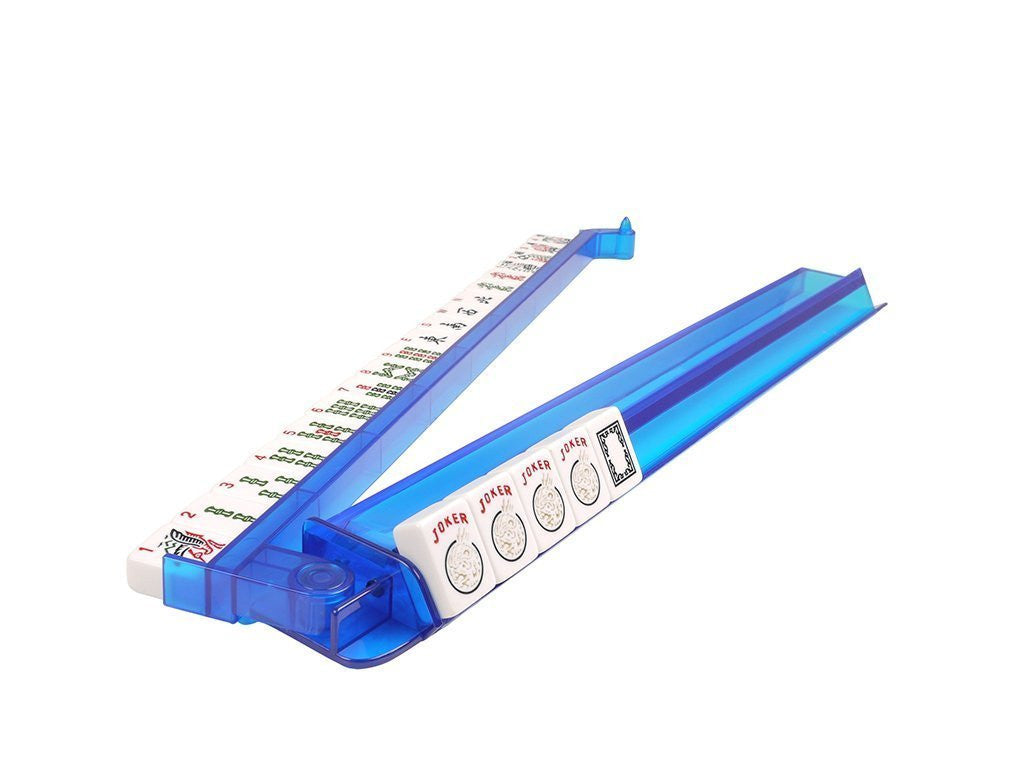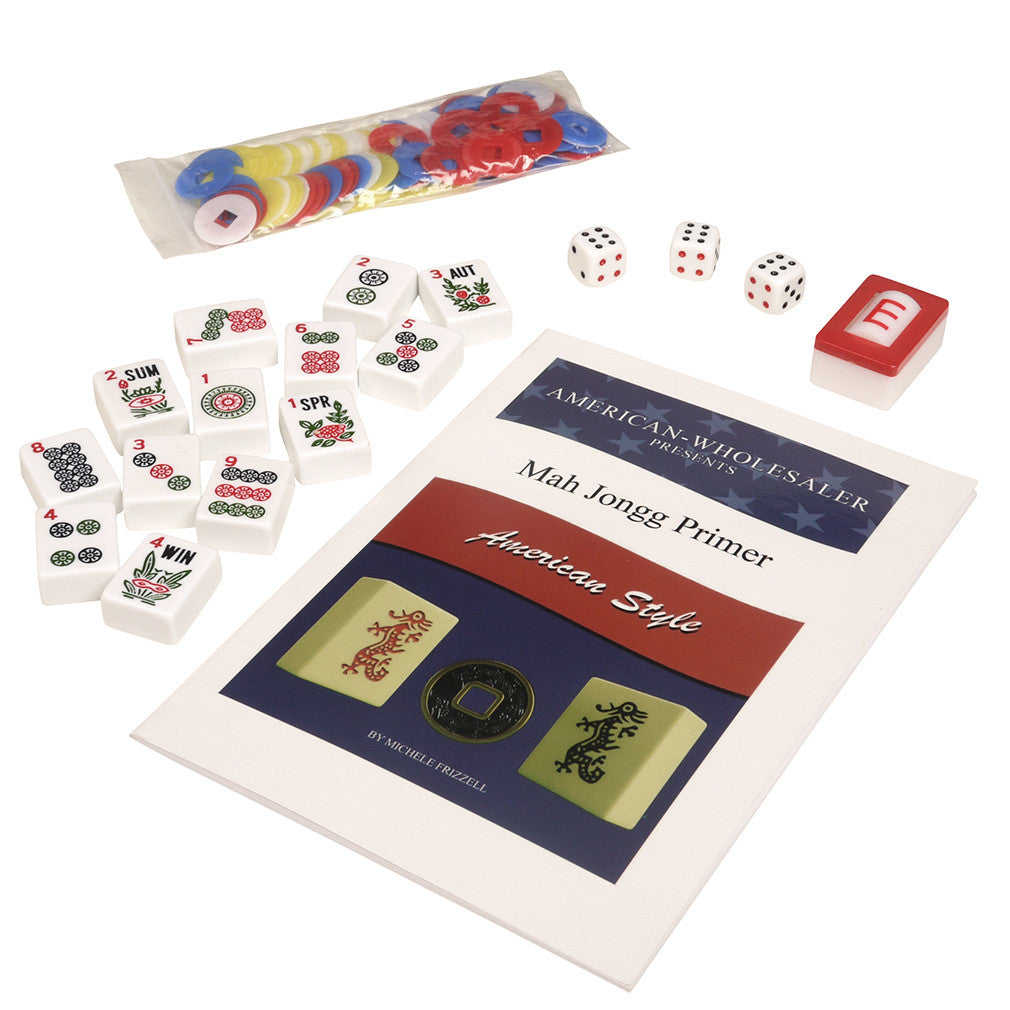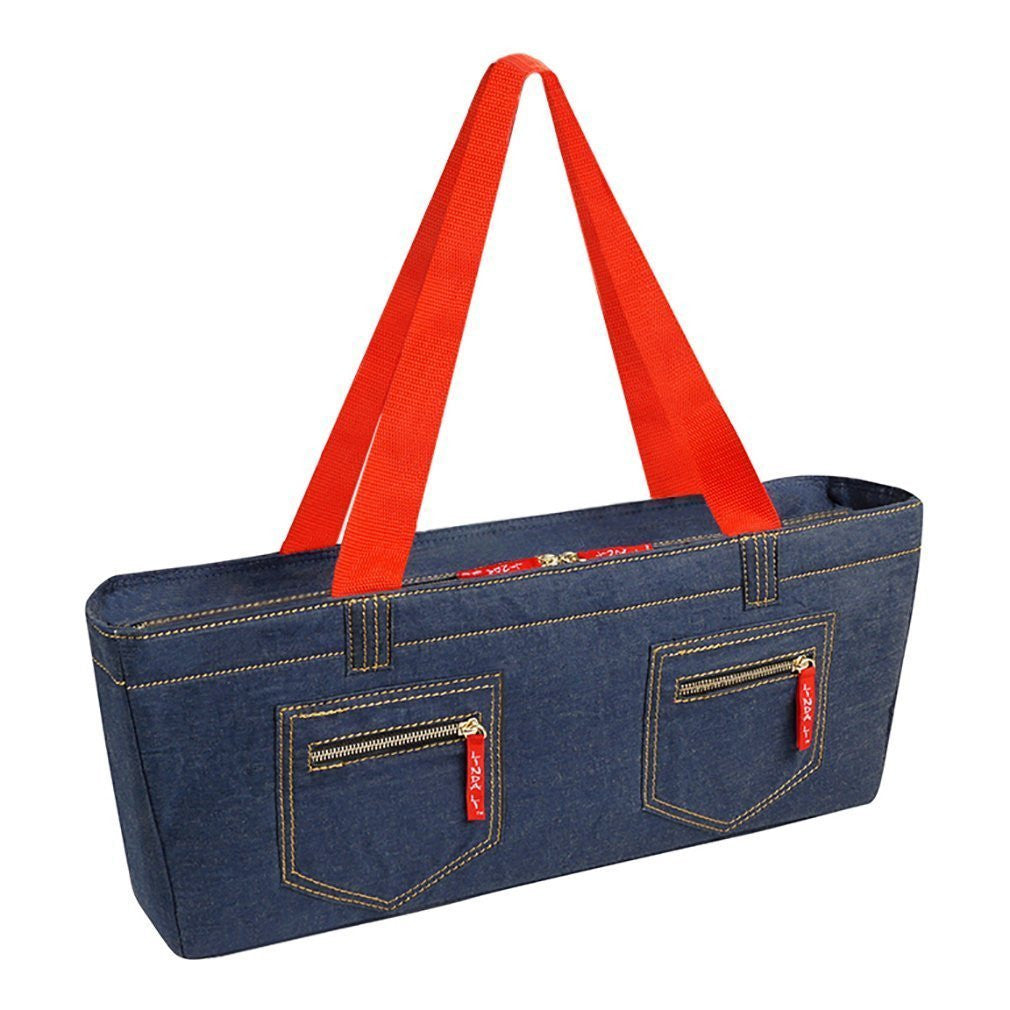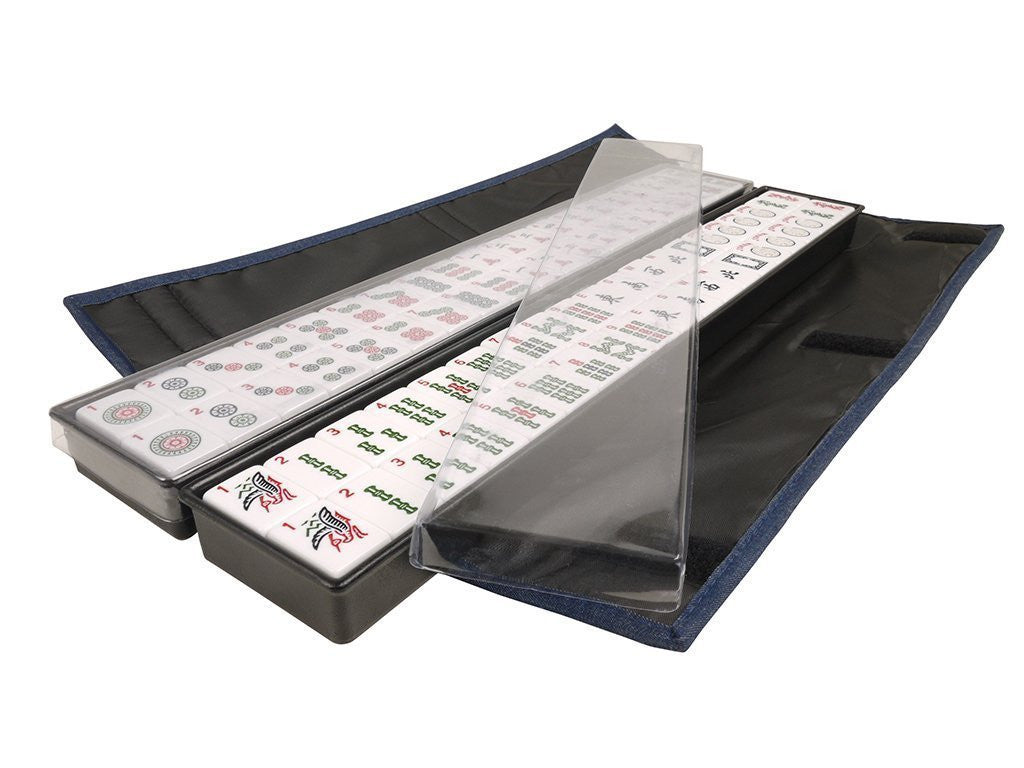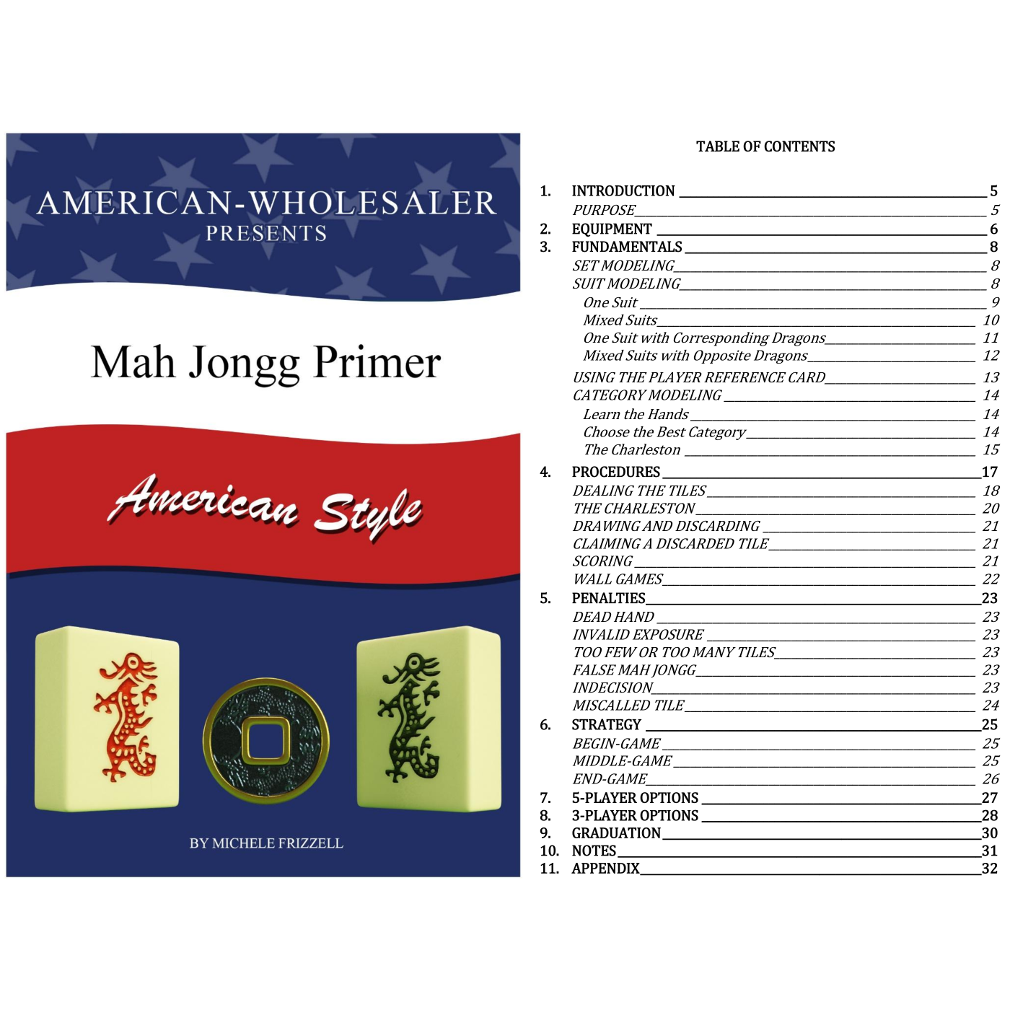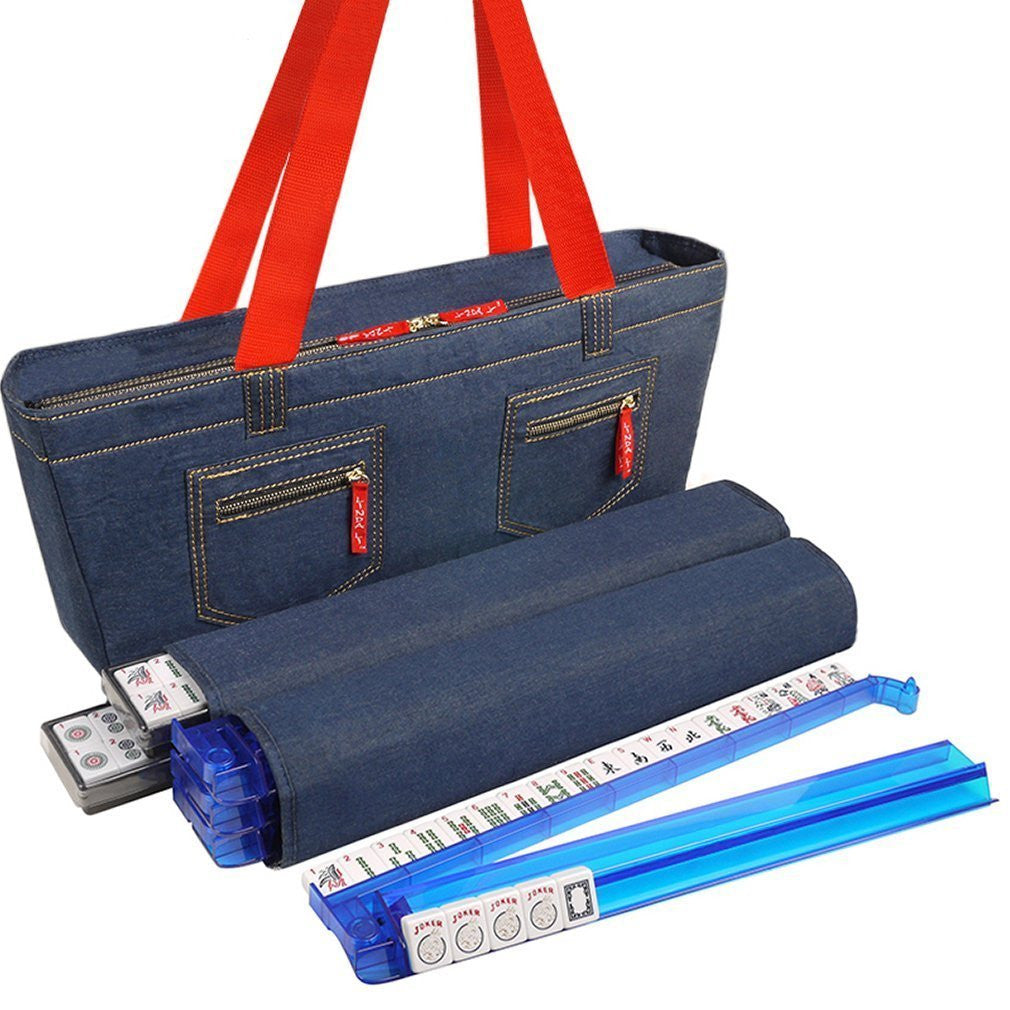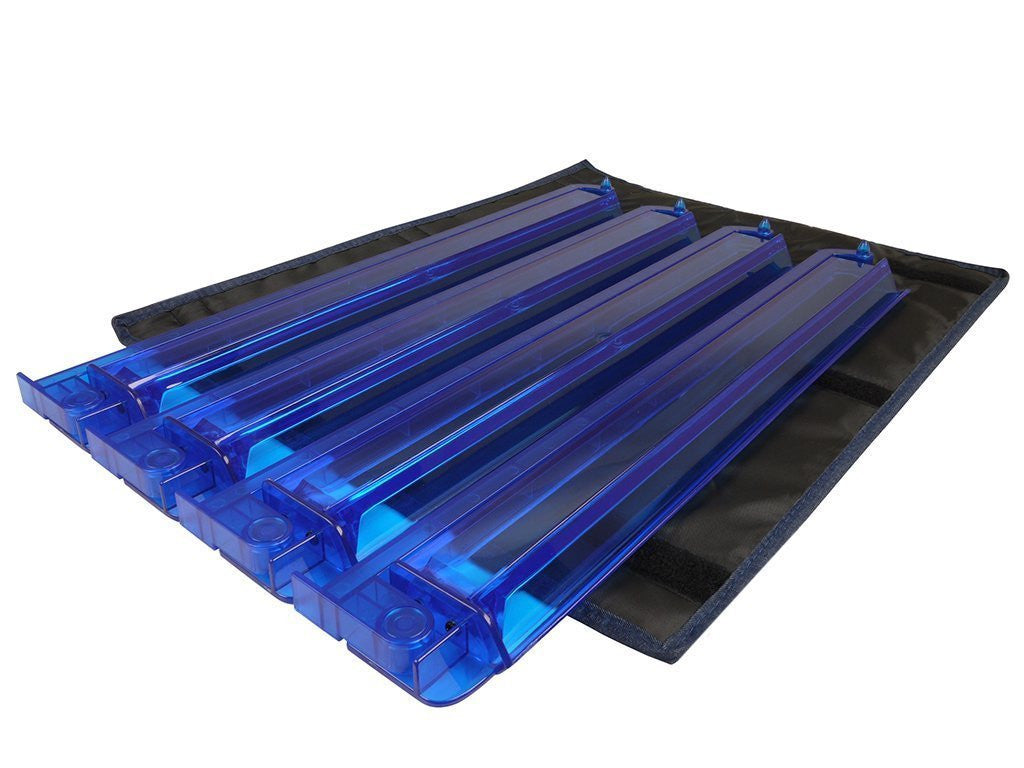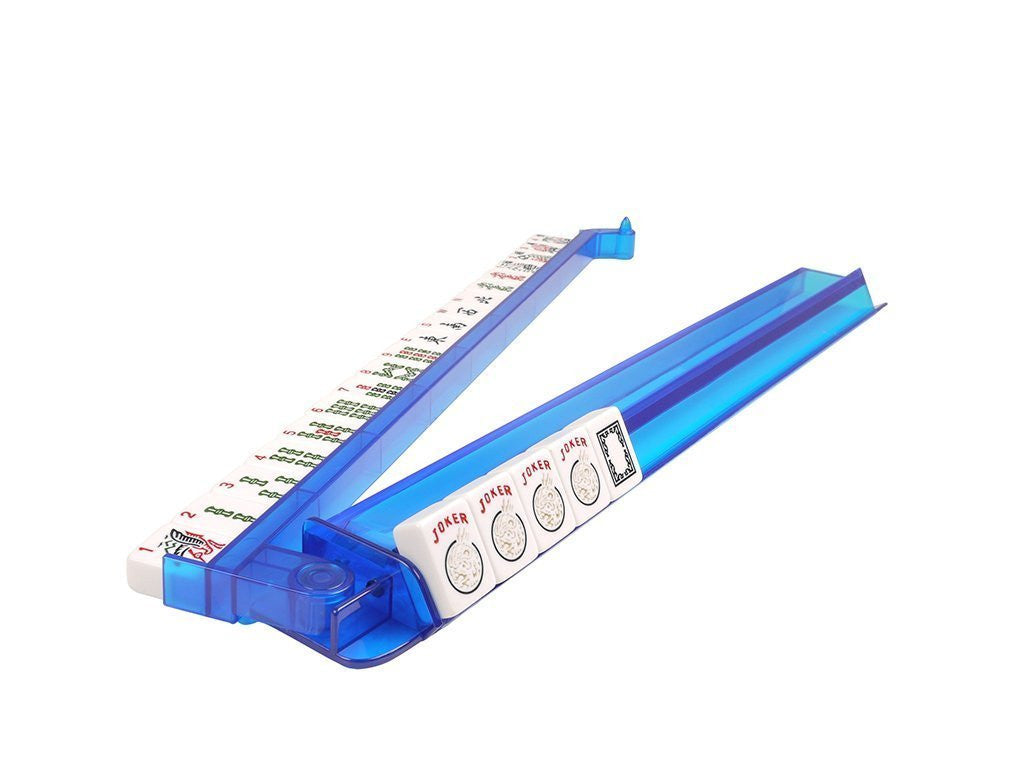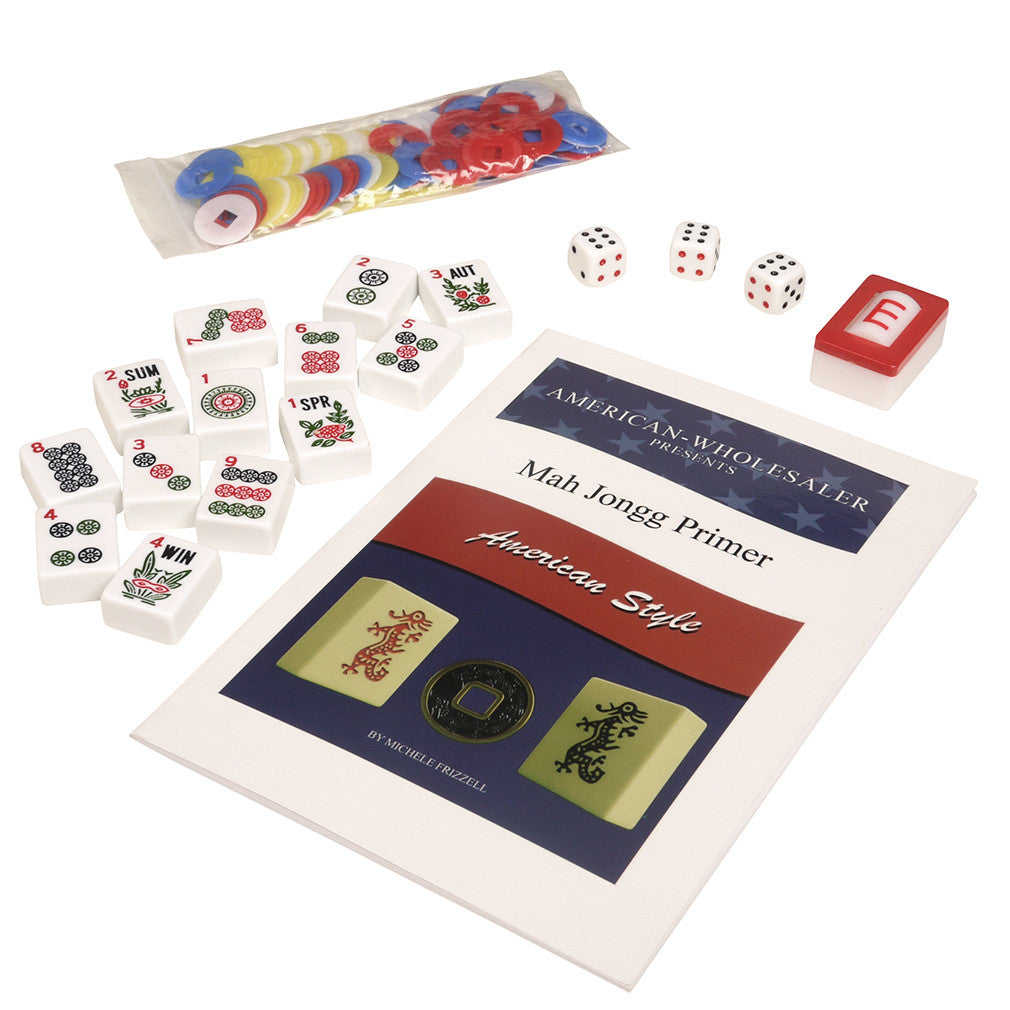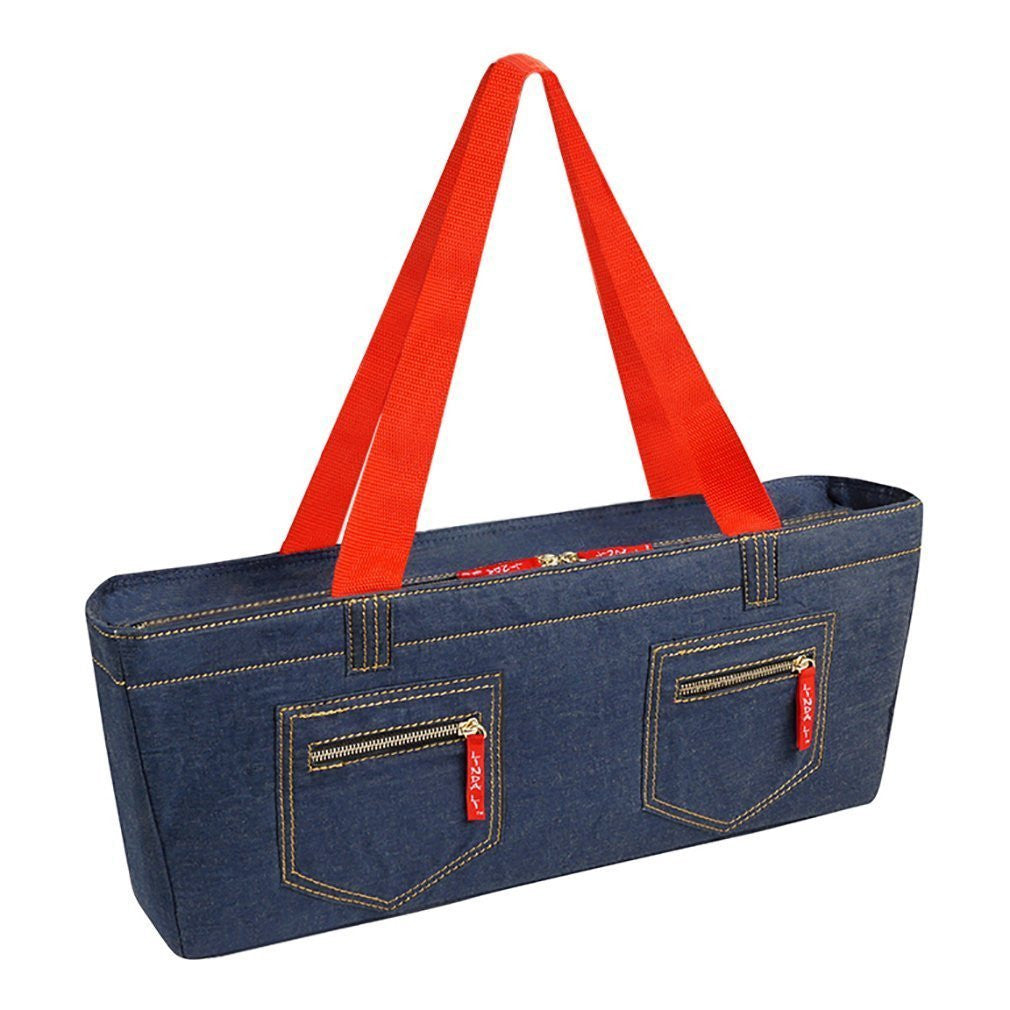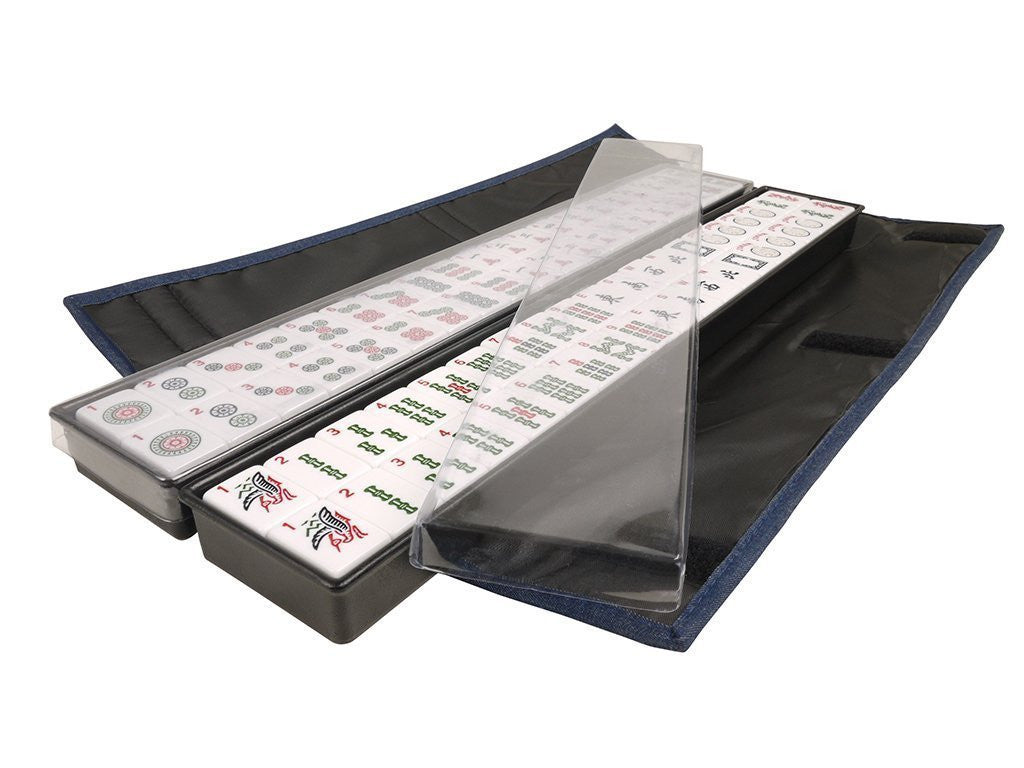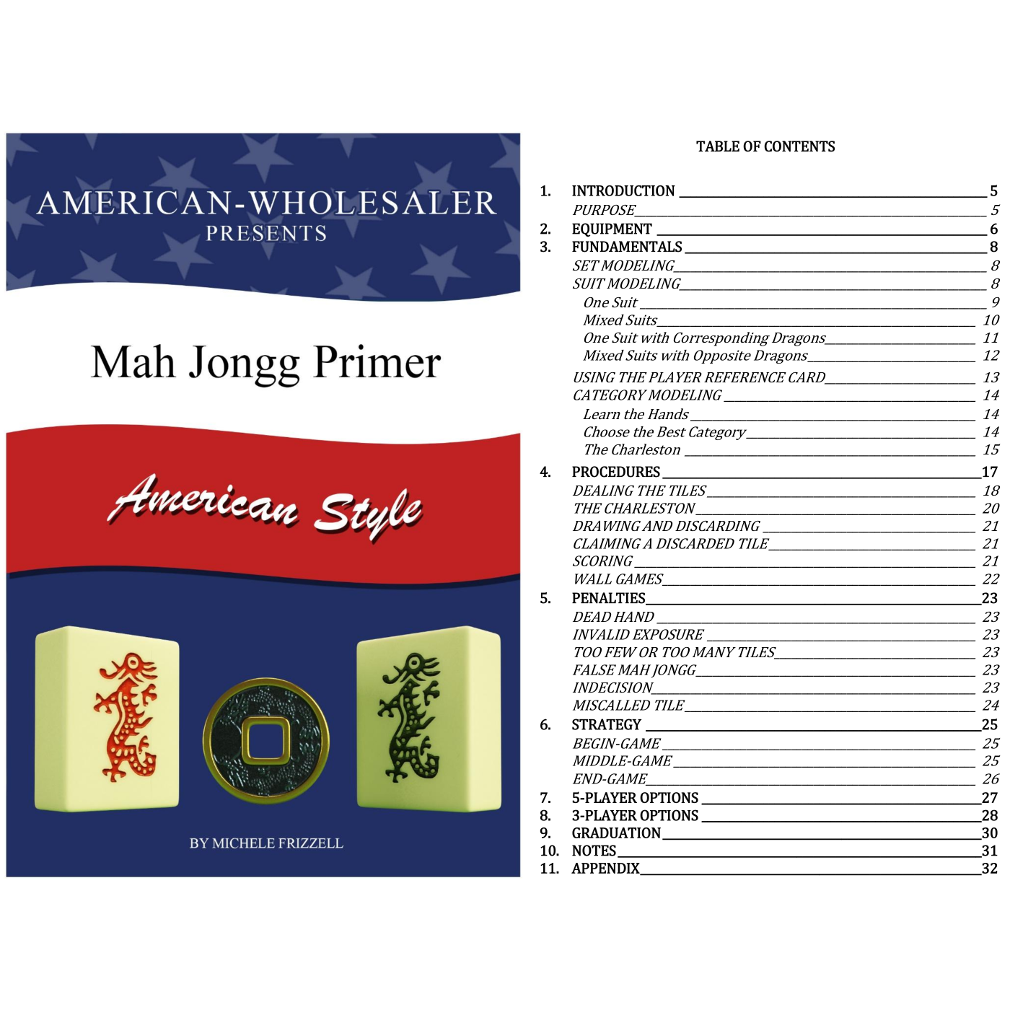 On Sale
Soft-Sided American Mah Jongg Set by Linda Li® with White Tiles and Modern Pushers - Denim Bag
Beautiful, lightweight, and stylish soft sided denim case from Linda Li®, with convenient shoulder straps and handy inside zippered pocket
Tiles are white color, fully engraved, beautifully hand-painted, and made of durable melamine
166 premium tiles: 36 Dots, 36 Bams, 36 Cracks, 12 Dragons, 16 Winds, 16 Flowers, 10 Jokers, and 4 Blank Spares, each tile measuring 1-3/16" tall x 7/8" wide x 1/2" thick (30mm x 23mm x 13mm)
Includes 4 stunning sapphire blue all-in-one pusher and tile rack combo, so easy to use and so easy to put away after game play. Each set comes with 3 large dice (5/8" size), 100 money chips, and bettor
Also included: "Mah Jongg Primer, American Style" by Michele Frizzell, complete with 3D color graphics to help you master the game or brush up on rules and strategy.
This stylish, high-quality American Mah Jongg set from Linda Li® comes fully equipped in a gorgeous soft-sided denim carrying case, exquisitely detailed, and guaranteed to make you the envy of your Mah Jongg quartet.

The soft-sided denim bag is ultra lightweight, sporting a nifty two-way zipper (with pulls!) for easy open and close functionality, a convenient inside zippered pocket, beautifully accented outside pockets, and 2 sturdy shoulder straps making it very convenient to carry around.

The set contains 166 premium white colored tiles, all fully engraved, and beautifully hand-painted. Made of melamine, they are heavy and scratch-resistant. These are the most beautiful Bams and Dots you will find.

The tiles break down as follows:

36 Dots, 36 Bams, 36 Cracks, 12 Dragons, 16 Winds, 16 Flowers, 10 Jokers, and 4 Blank Spares. Tiles measure 1-3/16" tall x 7/8" wide x 1/2" thick (30mm x23mm x13mm)

The 2 tile trays hold 80 tiles each, and there are 6 spare tiles included (2 Jokers, 4 Blanks). Each tile tray comes with a clear plastic lid to keep your tiles securely in the trays during transport. The tile trays are further secured by a matching denim wrapper with velcro closures.

The stunning sapphire blue all-in-one pusher and tile rack are a breeze to use and very easy to put away after game play. A second matching denim wrapper keeps your all-in-one pushers organized and protected while packed away.
Mahjong Case:
Length: 21" ; Width: 10" ; Height: 3 1/2"
Case Style: Soft Sided Case
Latch Style: Zipper
Case Exterior: Denim
Tile Tray Lid: Yes
Mahjong Tiles:
Height: 1 3/16" ; Width: 7/8" ; Thick: 1/2"
Tile Material: Melamine (Engraved)
Tile Color: White
Bamboos: 36 ; Characters: 36 ; Dots: 36
Dragons: 12 ; Winds: 16 ; Flowers: 8
Jokers: 8 ; Spare Jokers: 2 ; Spare Flowers: 8
Blanks: 4
Tiles: Total of 166 tiles
Mahjong Racks:
Racks: 4 ; Chipholder: No ; Material: Plastic
Length: 18" ; Width: 3 1/4" ; Height: 1"
Rack Colors: Translucent blue (all four)
Rack Style: Pusher integrated with rack
Mahjong Accessories:
Rule Book: Yes ; Dice: 3 ; Bettor: Yes
Chip Colors: 25 Red, 25 White, 25 Blue, 25 Yellow
UPC: 730699625467 AW-DENIM-MJ
About Linda Li

Linda Li's American Mahjong: A Touch of Luxury
Discover Linda Li mahjong sets, known for their unique blend of tradition and modern style. Linda Li is celebrated for distinctive and feminine designs in the world of mahjong. If you're in search of high-quality American mahjong sets that not only enhance your gameplay but also match your personal style, you'll find them in the Linda Li collection.
Stylish Mahjong Bags: Linda Li has gained fame for one-of-a-kind mahjong bags, meticulously crafted from premium cotton with quilted designs and a versatile color palette that effortlessly marries fashion and functionality. Designed with meticulous attention to detail, these bags serve as ideal companions for your mahjong adventures. They offer a diverse range of patterns and colors to cater to a wide array of preferences, ensuring there's a style to match everyone's taste.
The lightweight, soft bags come equipped with two sturdy shoulder straps for comfortable carrying, making it easy to transport your mahjong set with ease. Whether you lean towards a classic or modern look, the Linda Li collection has you covered.
Complete Set for Your Enjoyment: Every Linda Li Mahjong Set is thoughtfully curated to provide you with a comprehensive gaming experience. Each set includes 166 tiles, racks, pusher arms, chips, dice, a bettor, and a rule book. With all the essentials at your fingertips, you can fully immerse yourself in the captivating world of mahjong.
Best-Selling Blue Paisley Mahjong Set: A standout in the Linda Li collection is the Blue Paisley Mahjong Set, which earned its place as one of the best-selling mahjong sets of 2022. This set is lauded for its stylish quilted design and high-quality components. It arrives packaged in a soft-sided carrying case adorned with a luxurious blue paisley print. The inclusion of a two-way zipper and convenient shoulder straps ensures effortless transportation.
Artisan Collection: For those seeking a touch of luxury in their mahjong sets, Linda Li presents the Artisan Collection. These sets feature enhanced-size tiles meticulously laser-cut with intricate designs, including the captivating butterfly four seasons motif. Each tile is a masterpiece in itself, adding an extra layer of sophistication to your mahjong gatherings.
In summary, Linda Li Mahjong Sets offer a blend of tradition and modern elegance. Known for their quality and style, they are the choice of discerning mahjong enthusiasts. Elevate your gaming experience and add sophistication to your gatherings with Linda Li Mahjong Sets.