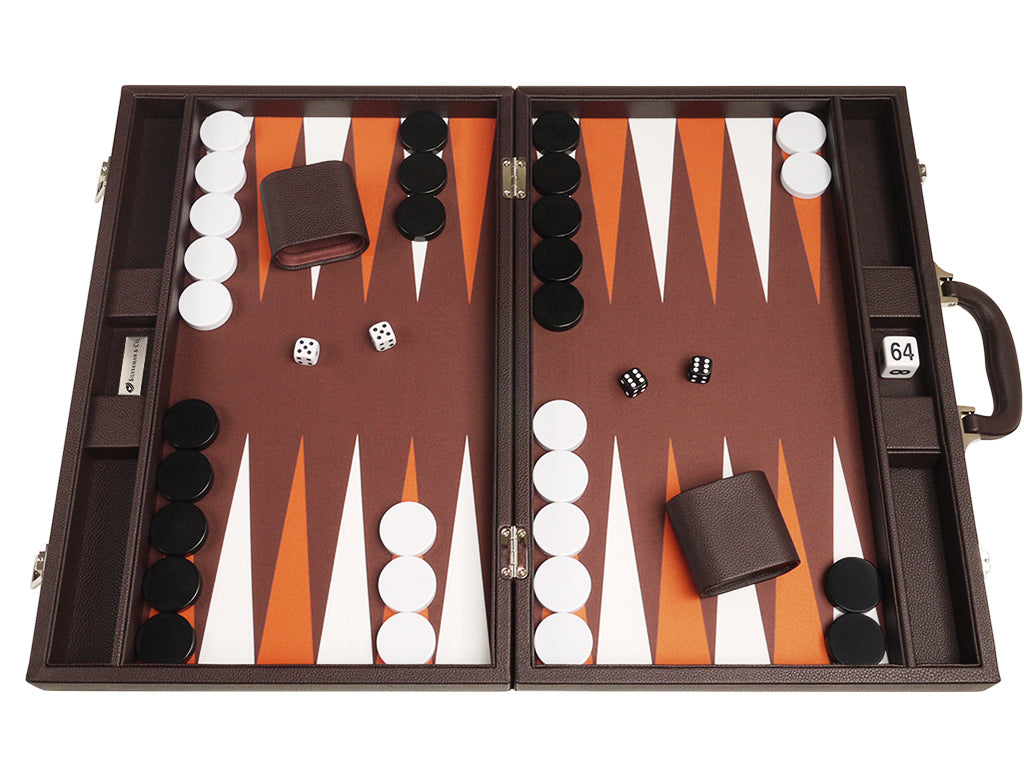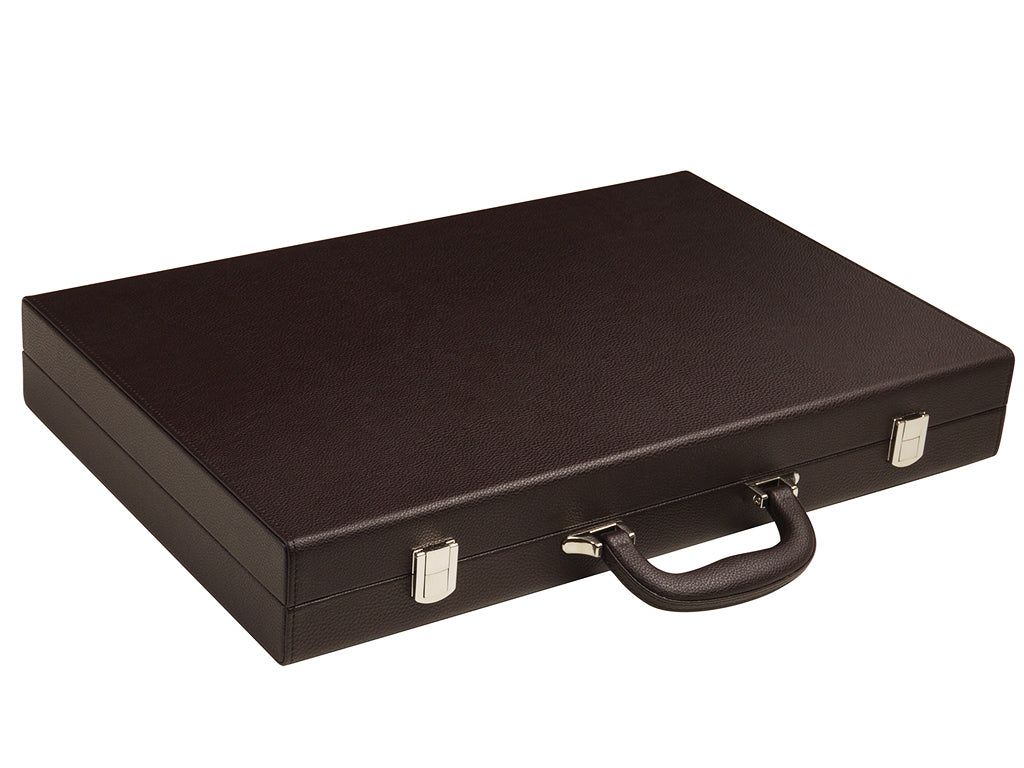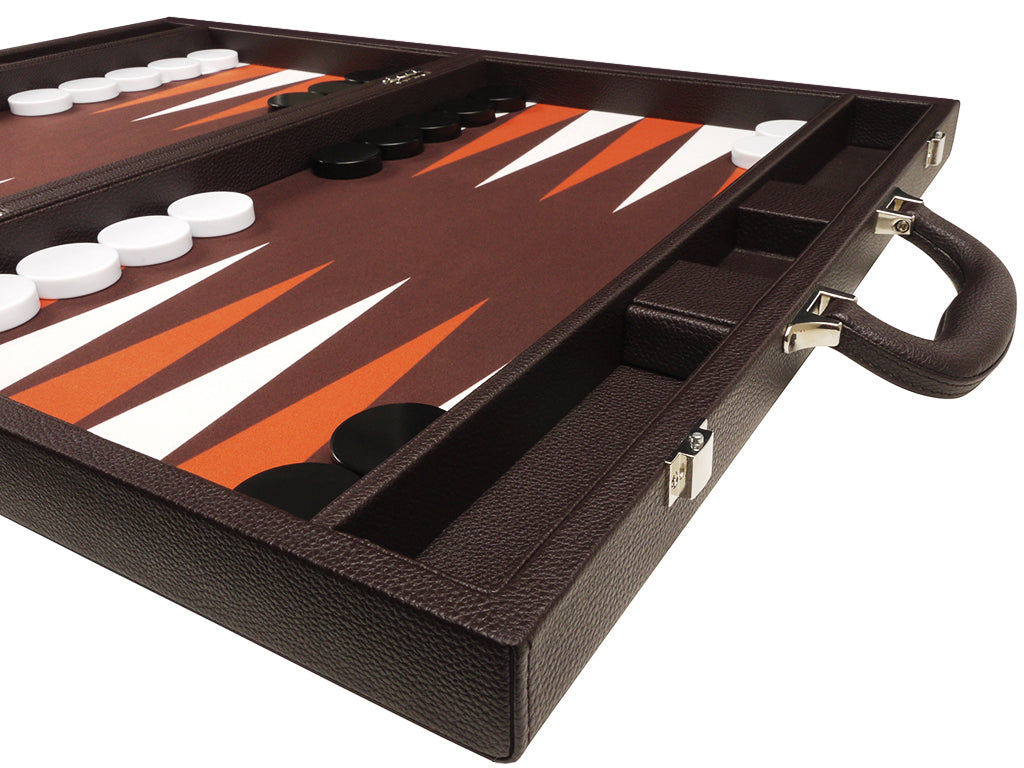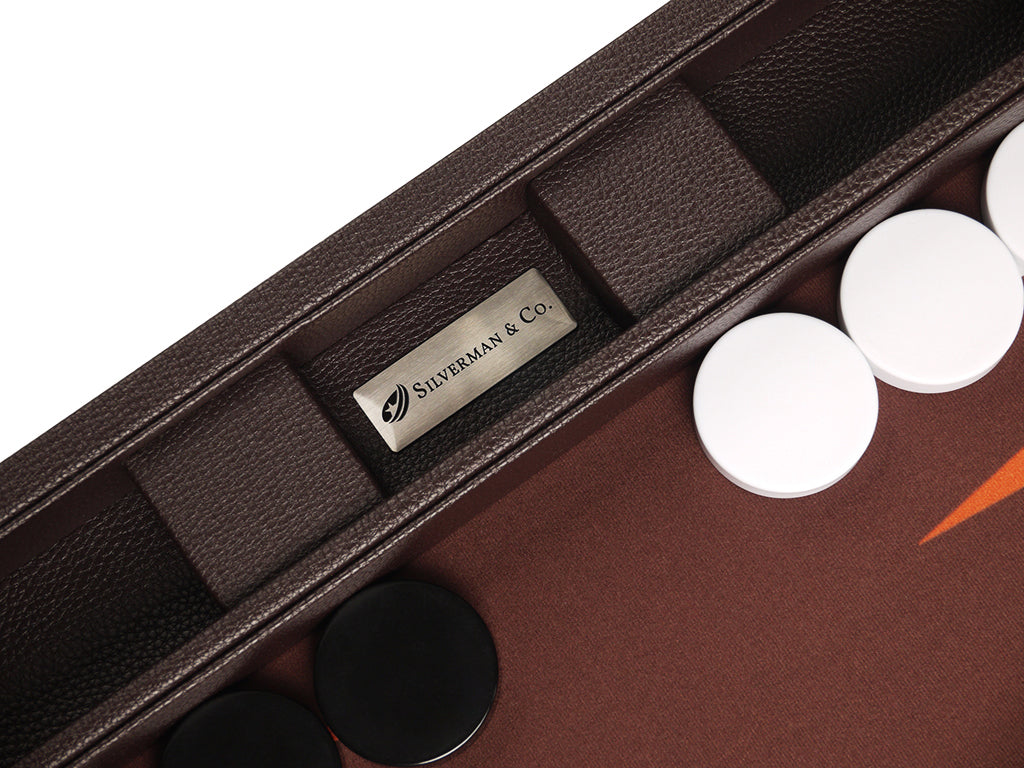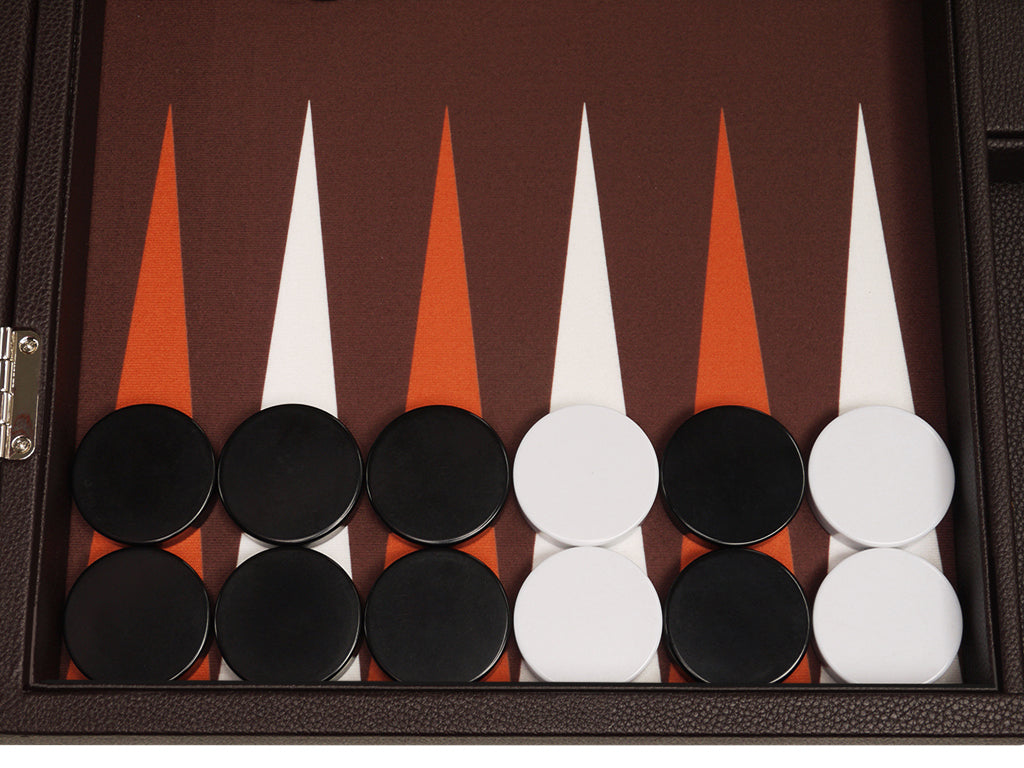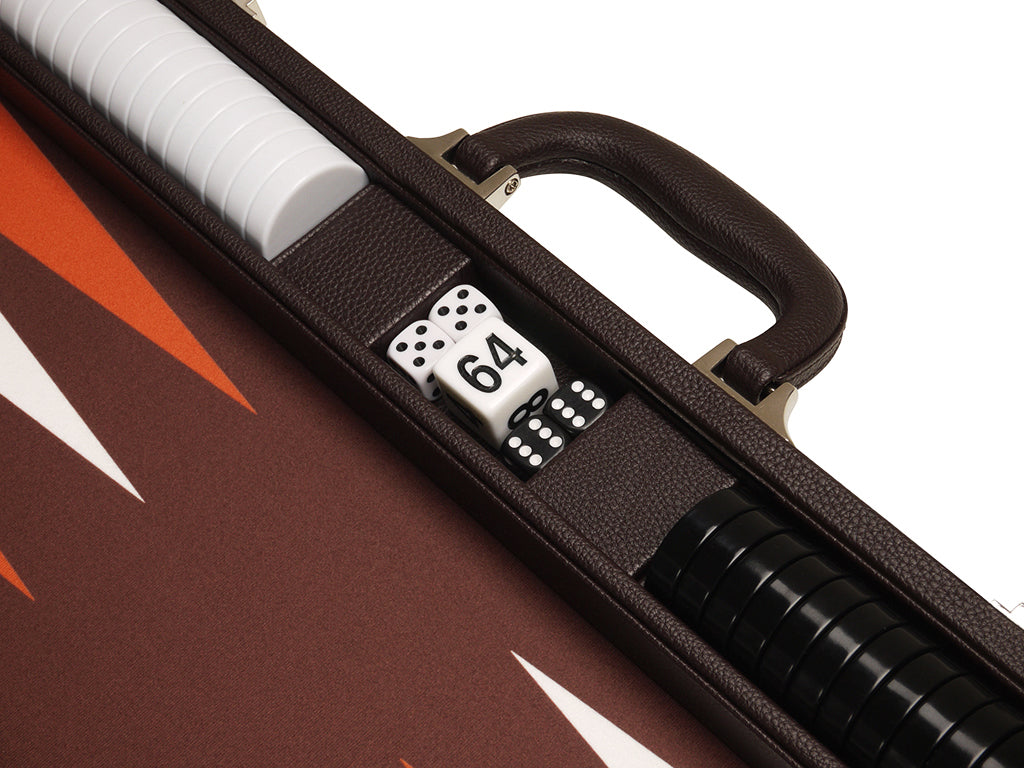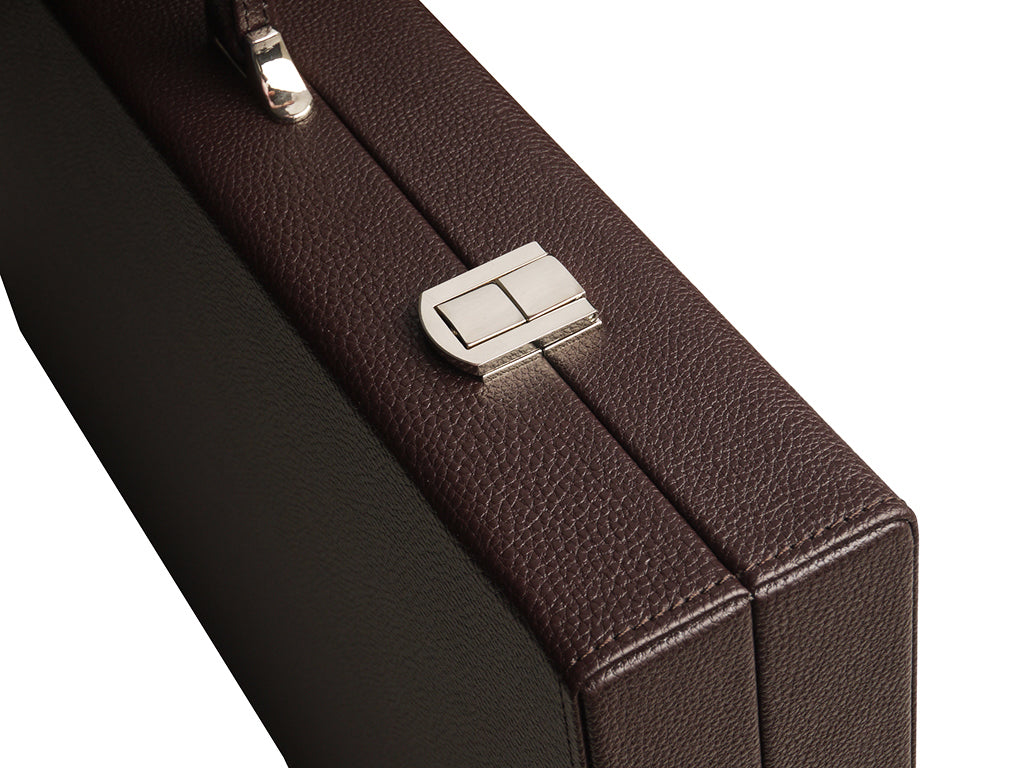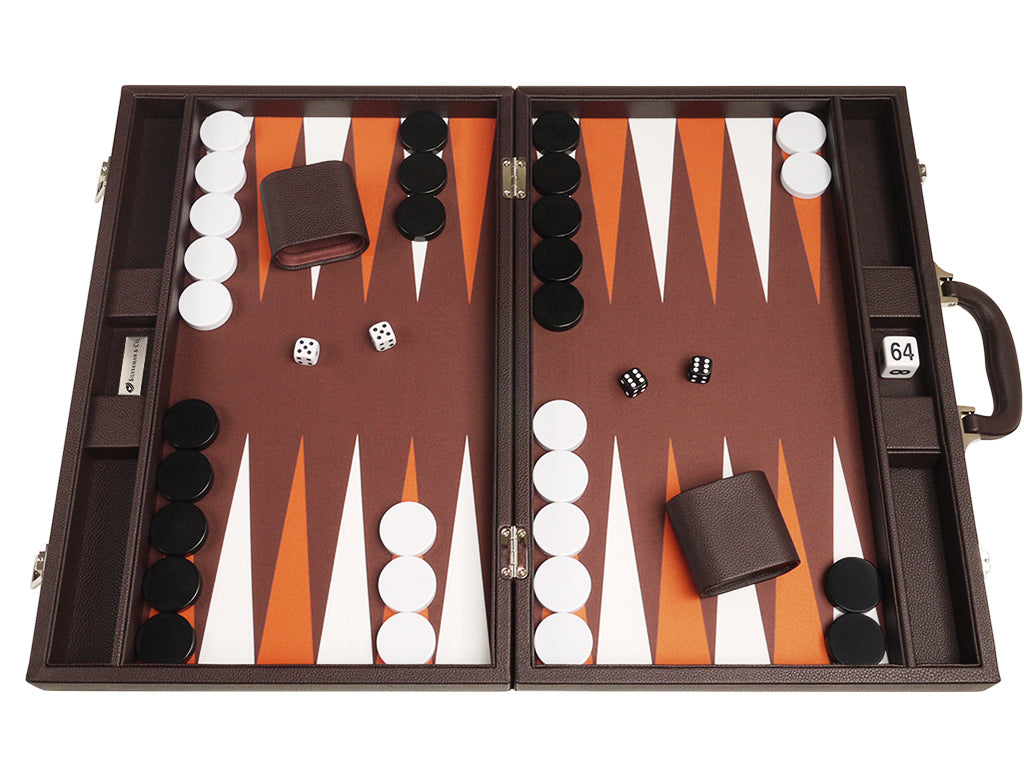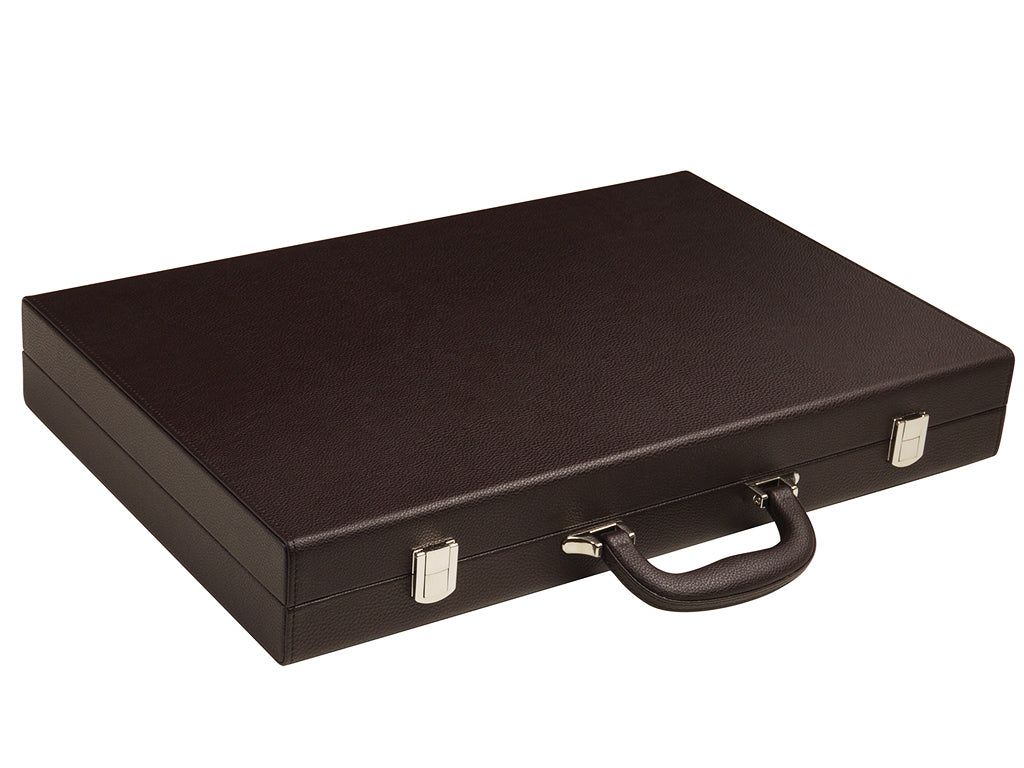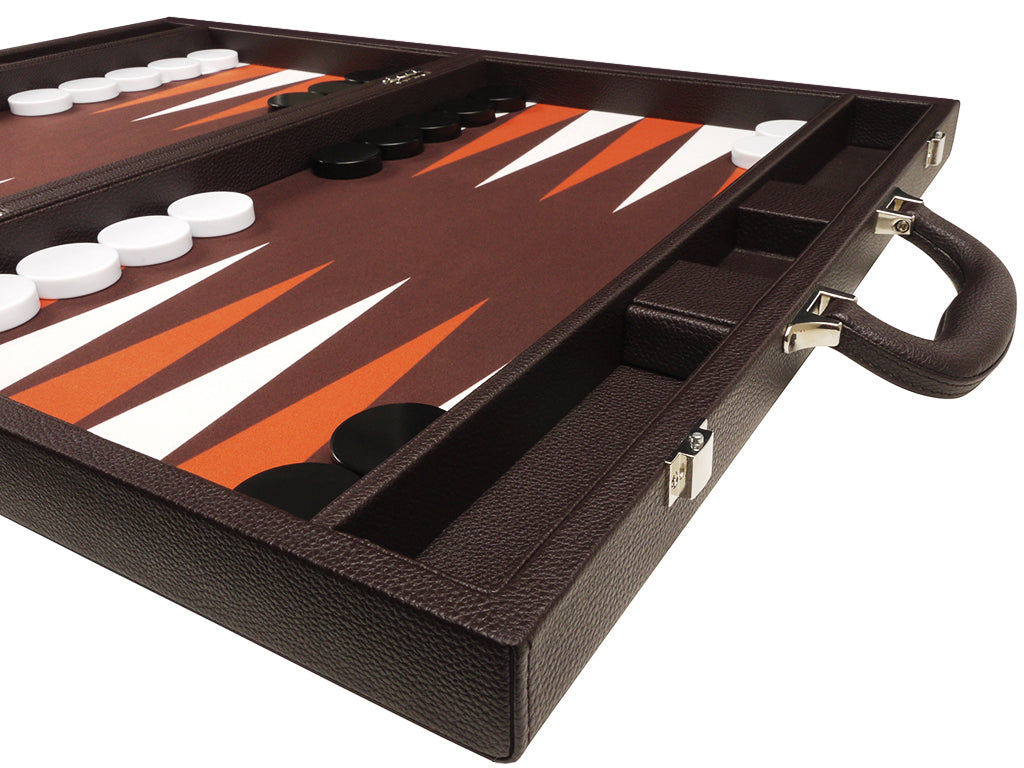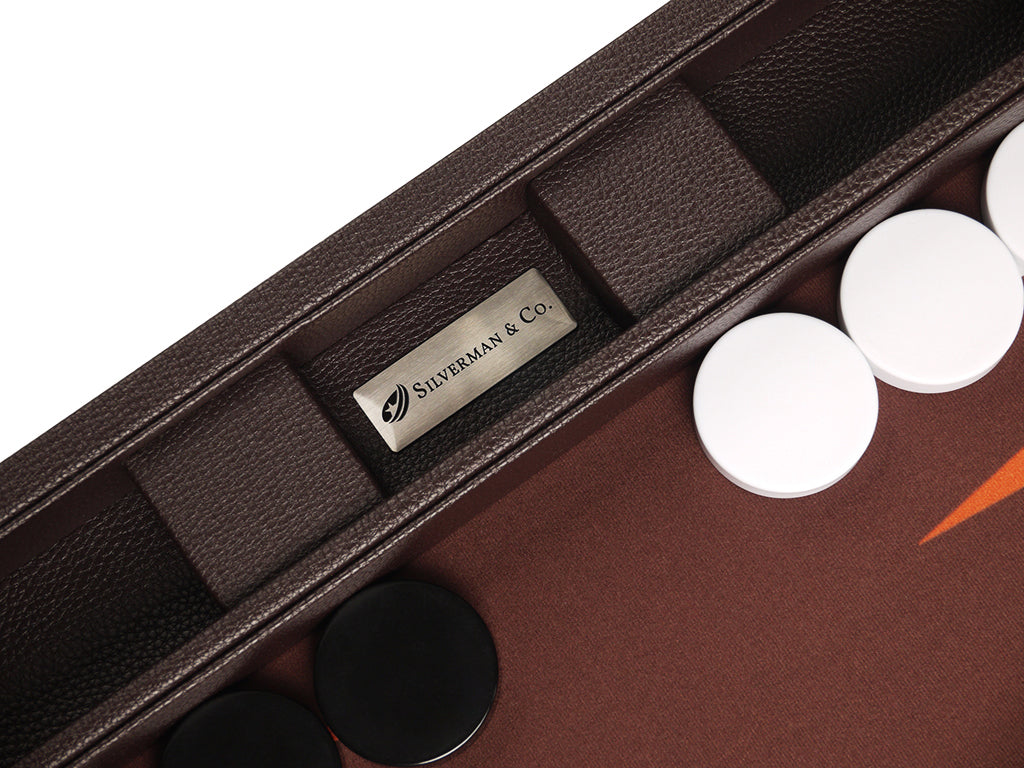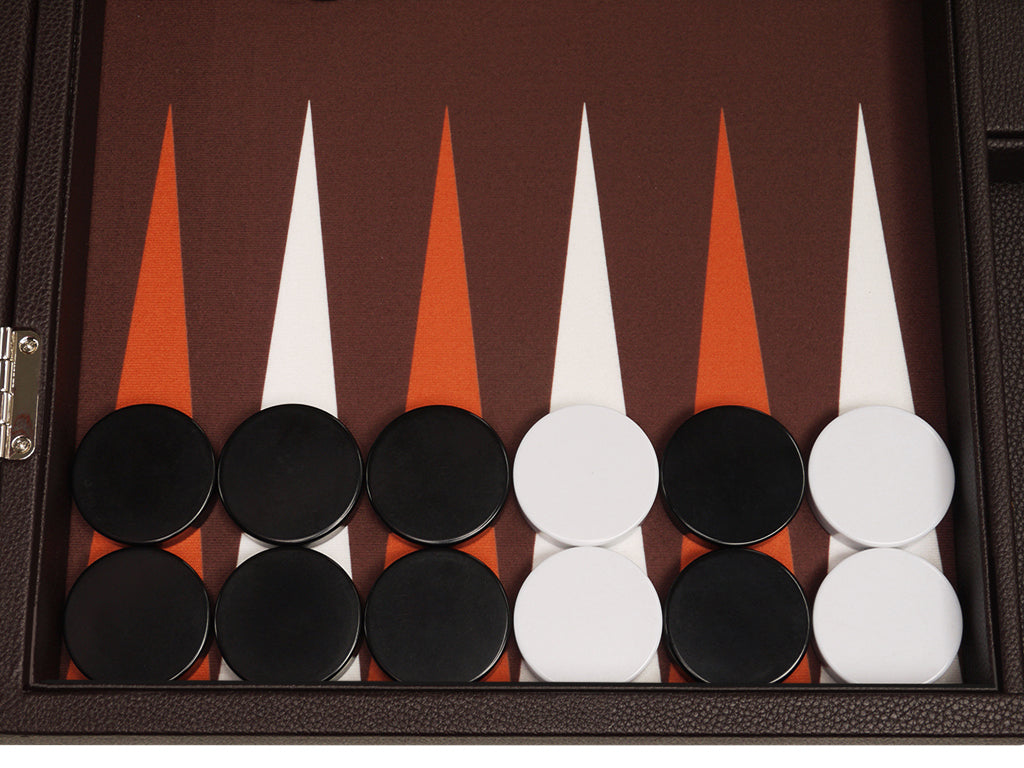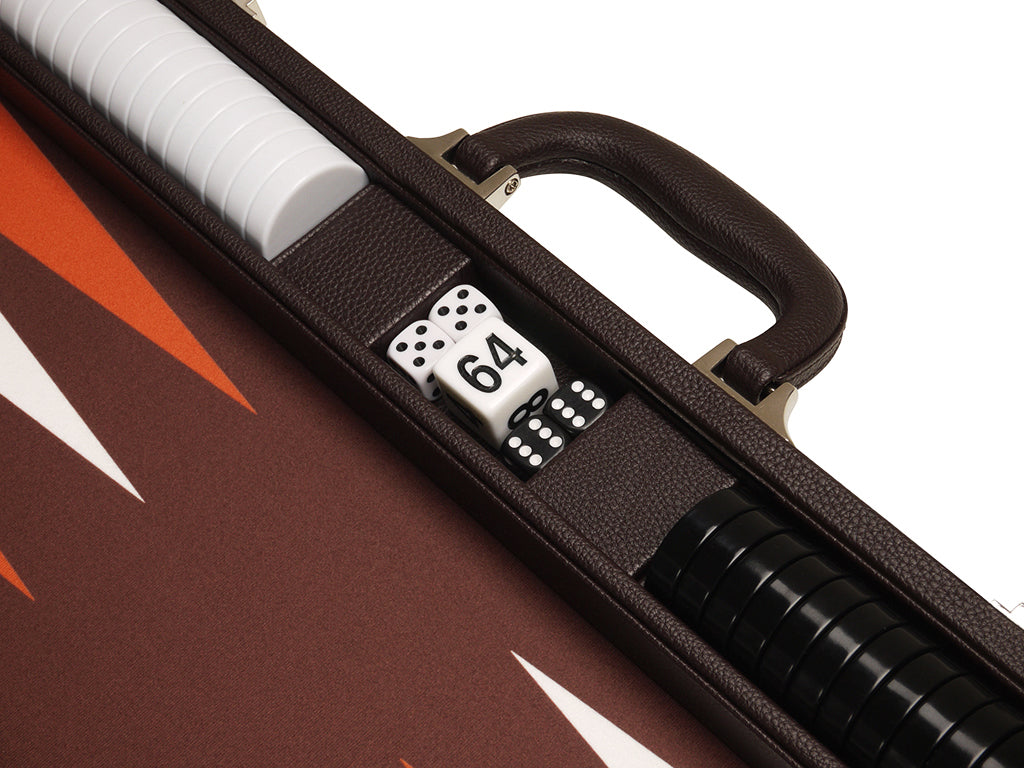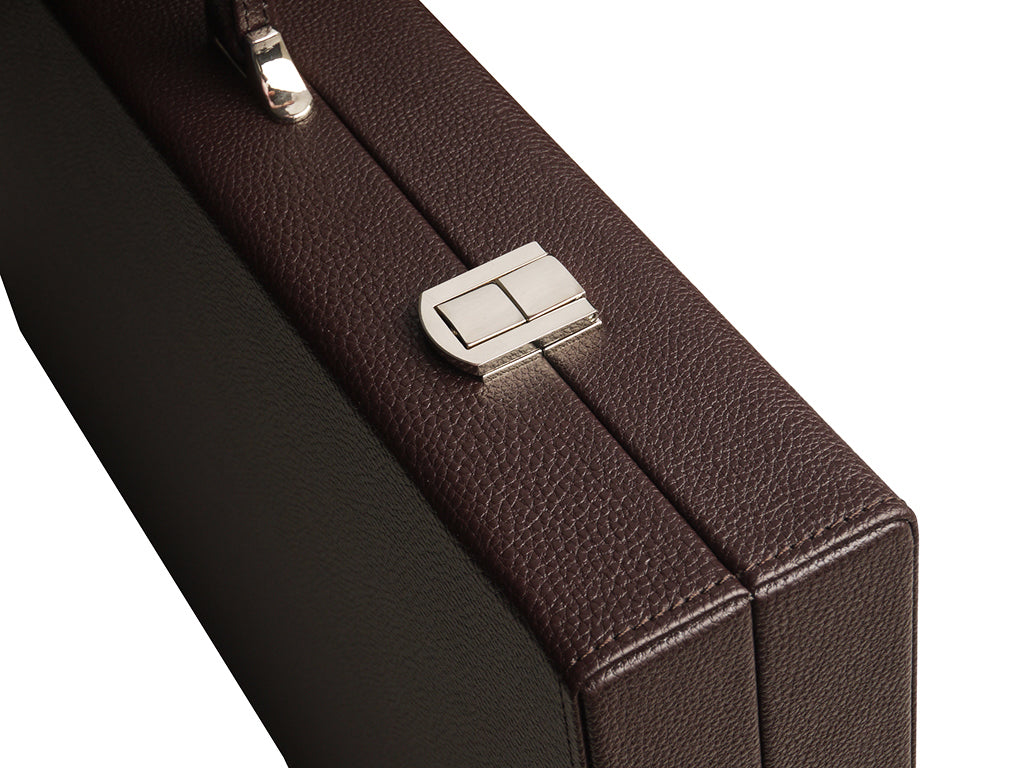 On Sale
19-inch Premium Backgammon Set - Dark Brown
19-inch Premium Backgammon Set - Dark Brown

Elegant style, quality craftmanship, premium leatherette exterior, smooth playing surface

Measures 19" x 12 5/8" x 2 3/4" when closed
Measures 19" x 25 1/4" x 1 3/8" when open

Sturdy rugged handle, solid latches, strong frame - Includes high-quality playing pieces

Easy to carry and store - Perfect for travel, tournaments, indoor, outdoors, and family fun
You enjoy the finer things in life. Quality is important to you. You appreciate fine craftsmanship, attention to detail, and exquisite design. However, the high cost required to satisfy your taste may require careful financial planning. Not anymore! We are pleased to announce the arrival of the spectacular Silverman & Co. premium backgammon sets. These exceptional products set a new standard for quality at a price that cannot be beaten.
The exterior is finished in premium leatherette, assembled with uncompromising precision and attention to detail. The playing surface is an ultra fine padded felt, offering a luxurious glide for the checkers that will delight your senses. The checkers are a hefty 40 mm in diameter and 10 mm thick. Best of all, the checkers fit perfectly in the home board, with minimal gap when side by side.
When game play is over, and you're ready to pack up, you'll also appreciate how snugly the checkers fit in the side storage compartments, making closing the board trouble-free (no tilting checkers!) and keeping everything secure for when you pack up the board and head on to your next victory.
There's more! You'll also appreciate the ergonomic oval dice cups, with smooth felt lining (to reduce noise) and with tournament grade trip lips to ensure a fair dice roll each and every time. Each set also comes with a large 25 mm doubling cube and 16 mm high gloss black and white dice.
These are all characteristics normally found only in much pricier backgammon sets. That is, until now. Silverman & Co. premium backgammon sets are by far, the best combination of high quality and unbeatable value that you will find anywhere.
Backgammon Set Dimensions:
Closed Length: 19" Width: 12 5/8" Height: 2 3/4"
Open Length: 19" Width: 25 1/4" Height: 1 3/8"
Backgammon Set Materials:
Case Material: Leatherette
Case Color: Dark Brown
Field Material: Padded Felt
Field Color: Brown
Points 1 Color: White
Points 2 Color: Burnt Orange
Clasp Style: Nickel Plated Latch
Backgammon Stone Dimensions:
Diameter: 1 1/2" (40 mm)
Thick: 3/8" (10 mm)
Material: Uria Stone
Stones 1 Color: Black
Stones 2 Color: White
Backgammon Dice/Cube Dimensions:
Dice Size: 5/8"
Cube: 1"
Dice Set 1 Color: Black
Dice Set 2 Color: White
Cube Color: White
Backgammon Cup Dimensions:
Cup Height: 2 3/4" Width: 1 1/2" Length: 3"
Cup Exterior: Leatherette
Cup Interior: Felt with Trip Lip
Cup 1 Outer: Dark Brown
Cup 1 Inner: Brown
Cup 2 Outer: Dark Brown
Cup 2 Inner: Brown
About Silverman & Co.
Silverman & Co. Backgammon Sets with Free Shipping
Now available in Europe: Silverman & Co. backgammon sets with free shipping, exclusively through American-Wholesaler. Crafted with meticulous attention to detail and directly sourced from the manufacturer to eliminate additional costs, these sets redefine the elegance of backgammon.
The hallmark of Silverman & Co. is its vibrant color design, creating a distinct and stylish appeal that stands out. Each backgammon set boasts a faux-leather exterior, exuding luxury, and features an ultra-fine padded felt playing surface, offering a smooth and comfortable gameplay experience.
Every set is meticulously designed as a luggage-style case, providing both ease of transportation and storage for accessories when closed, and transforming into a play board when open. The case features a robust, rugged handle, solid silver-colored latches, and a strong frame, ensuring added durability for long-lasting use.
Designed for both functionality and convenience, these backgammon sets come in two sizes, catering to various preferences. The medium 16-inch (40 cm) size is perfect for regular use, while the large 19-inch (48 cm) size is ideal for those seeking a grander board for large-scale games.
Each Silverman & Co. backgammon set is fully equipped, providing everything you need for an exceptional gaming experience. You'll find 2 sets of checkers (15 in each set), 2 sets of dice (4 in total), 2 cups for rolling the dice, and a doubling cube, ensuring that you have all the essentials for exciting matches.
The set includes checkers made from the incredibly durable Uria Stone material, ensuring they won't break or crack during intense gameplay. The size of the checkers corresponds to the board size, with the larger board having larger checkers. For the 16-inch board, the checkers are 32 mm in diameter and 10 mm thick, while the 19-inch board comes with 40 mm diameter and 10 mm thick checkers.
These backgammon sets stand out due to their great quality, affordability, and the extra perk of free shipping, providing a luxurious gaming experience without overspending. Improve your backgammon play with the beautiful Silverman & Co. sets, currently offered at American-Wholesaler.