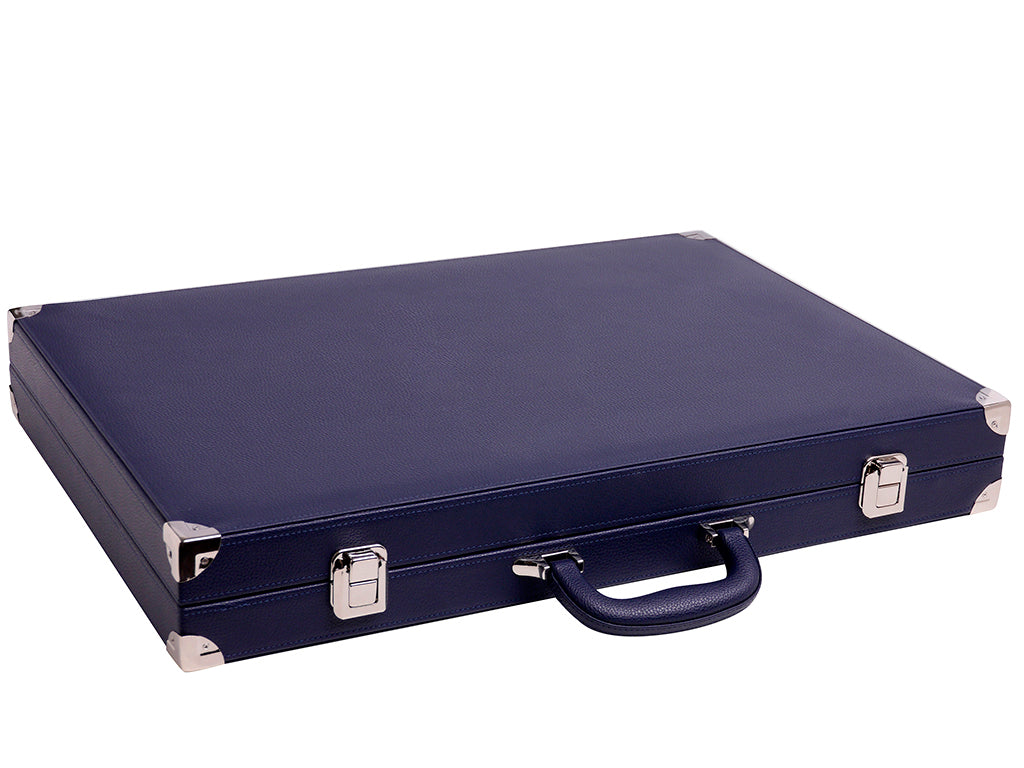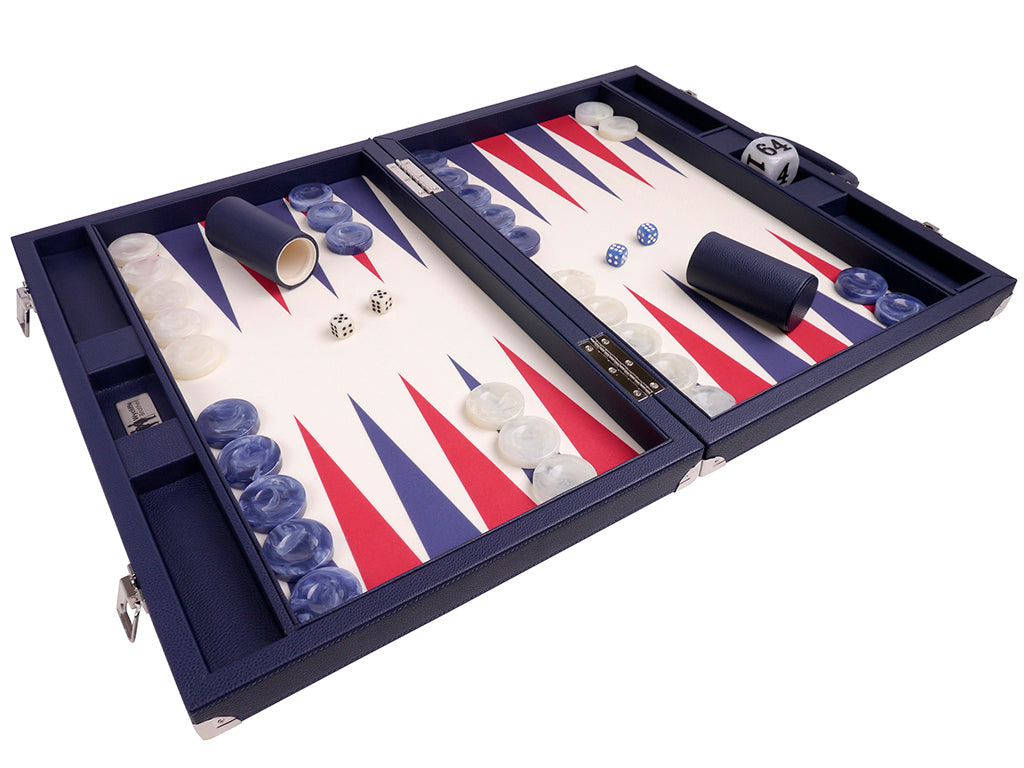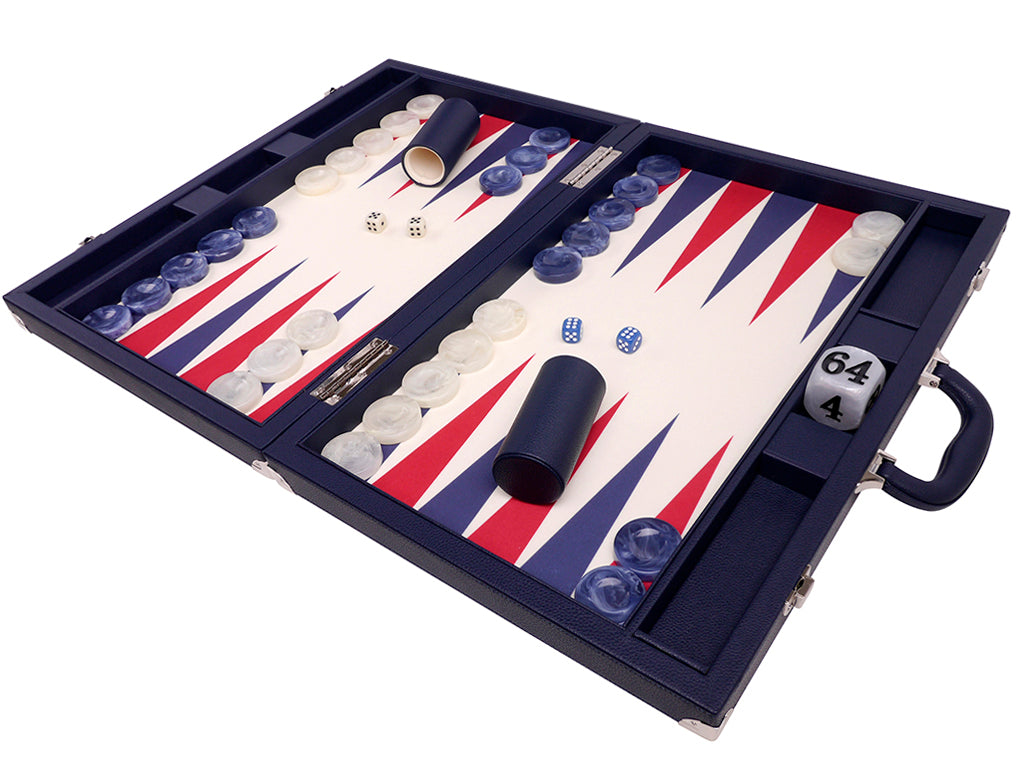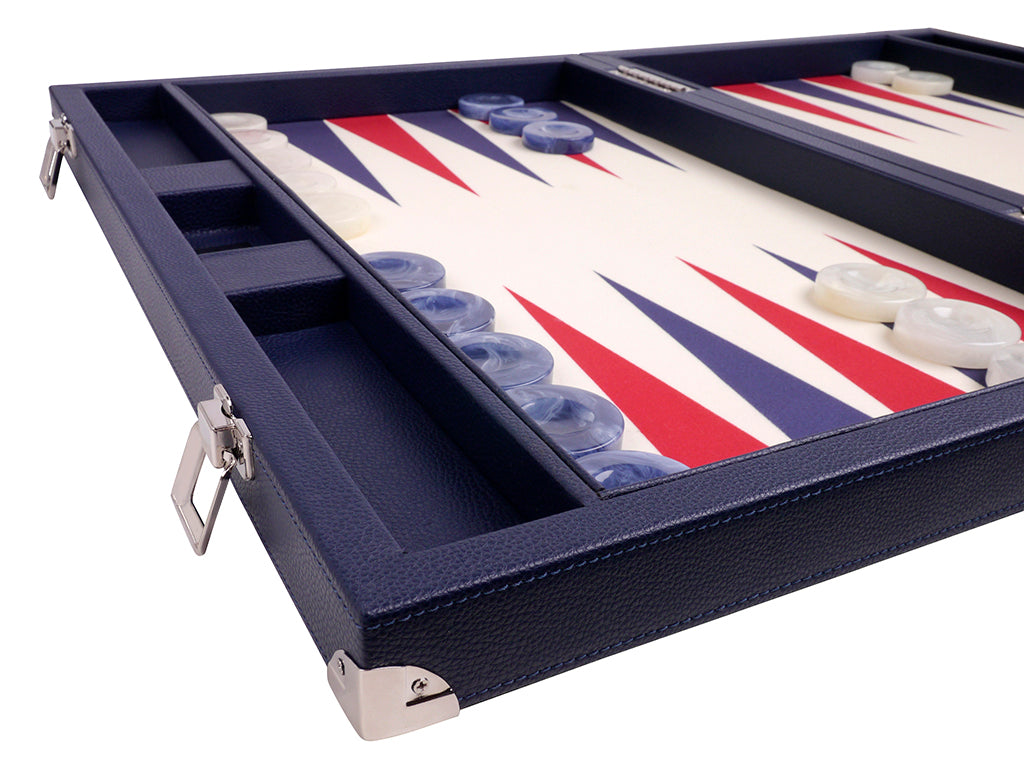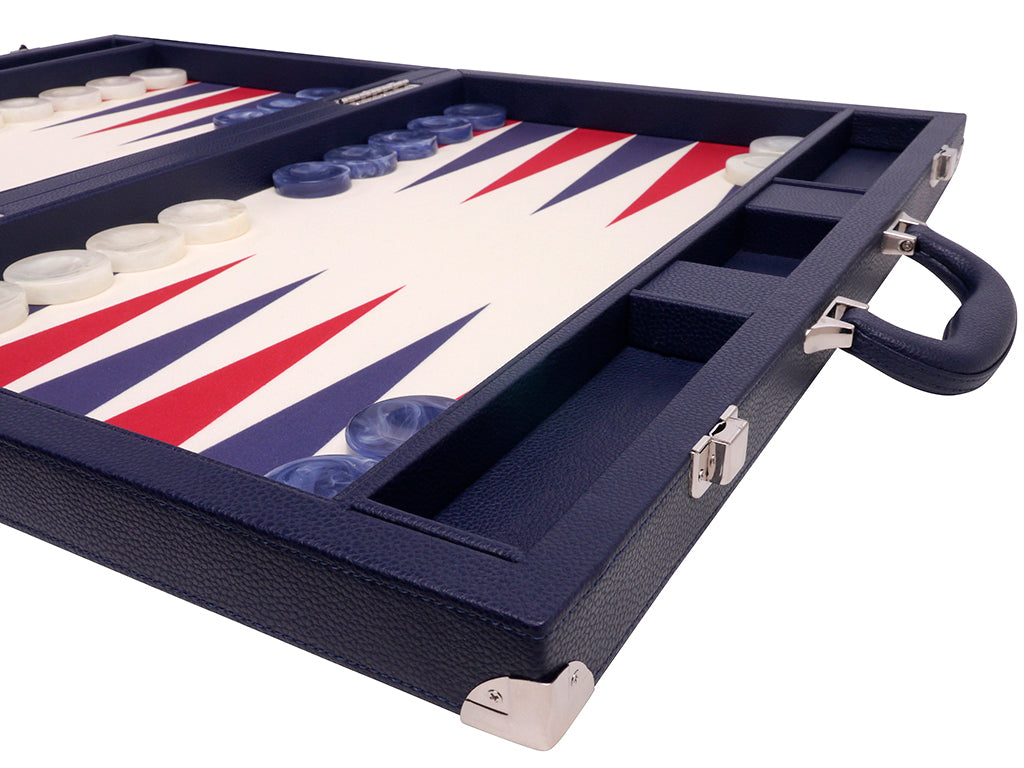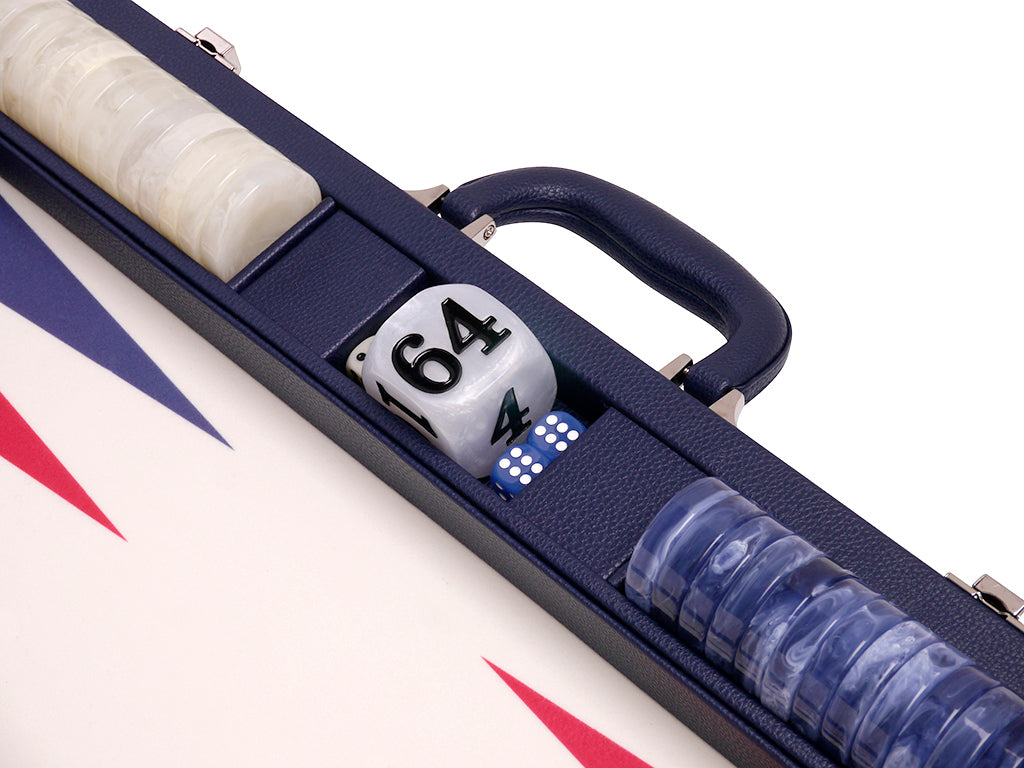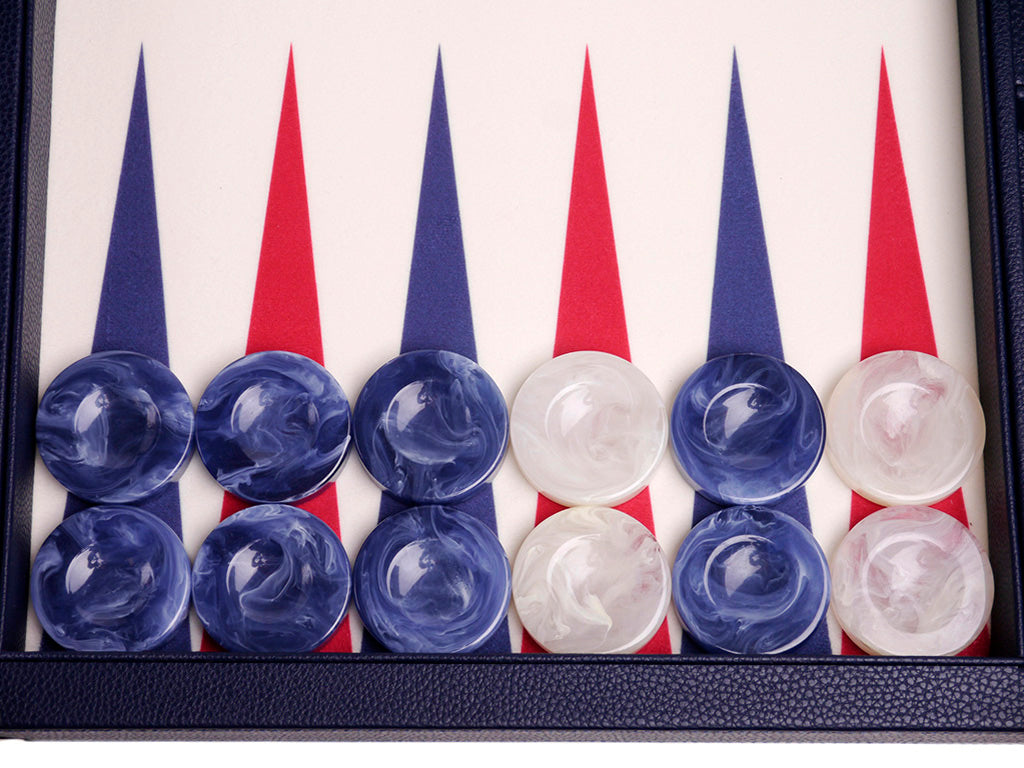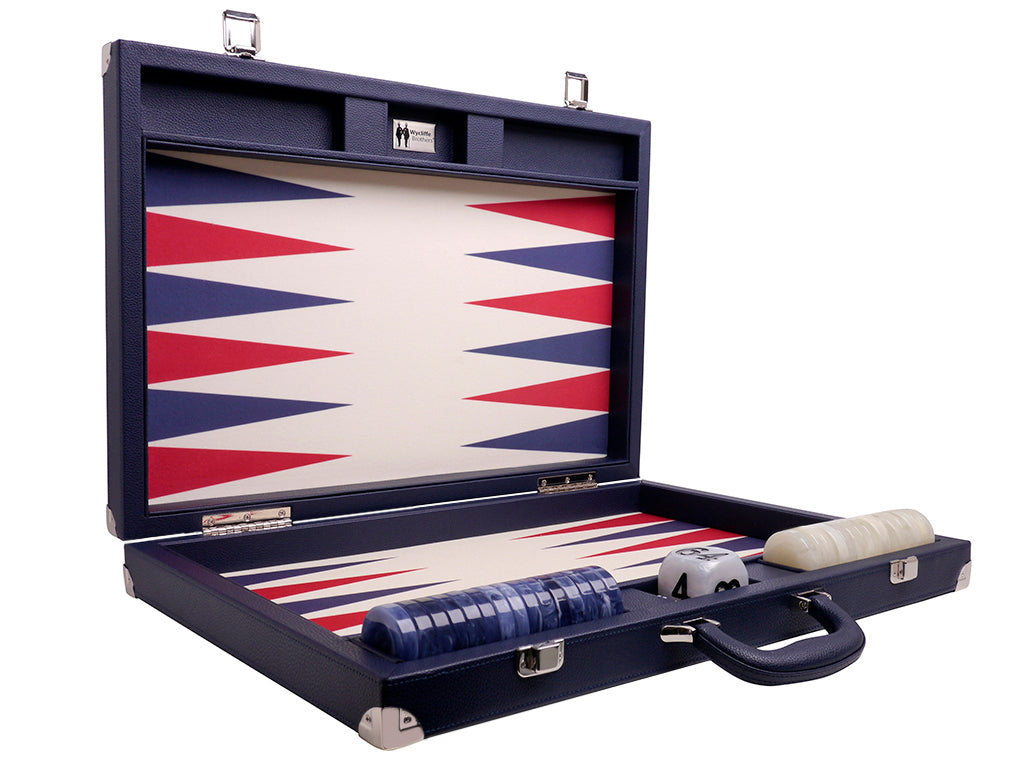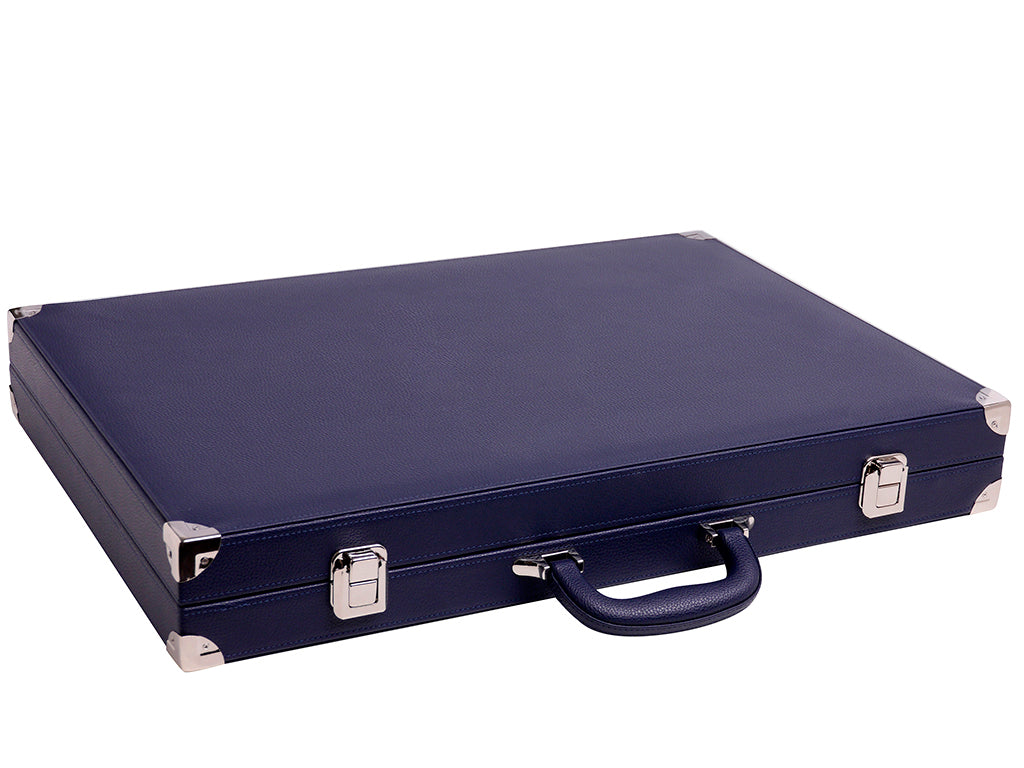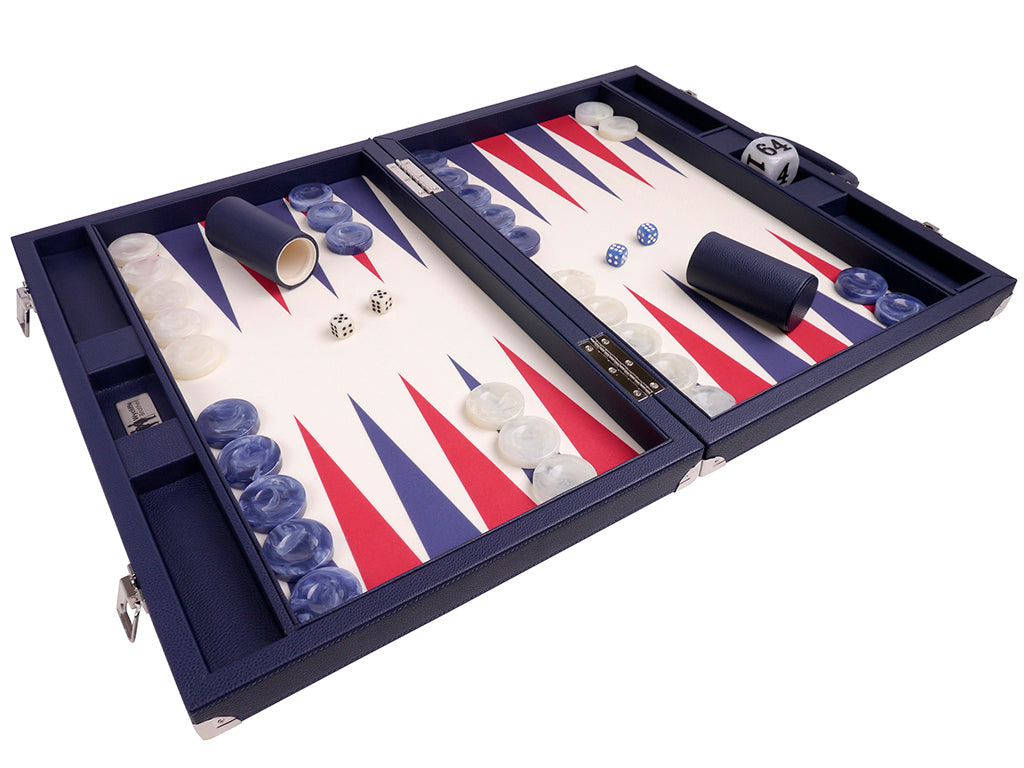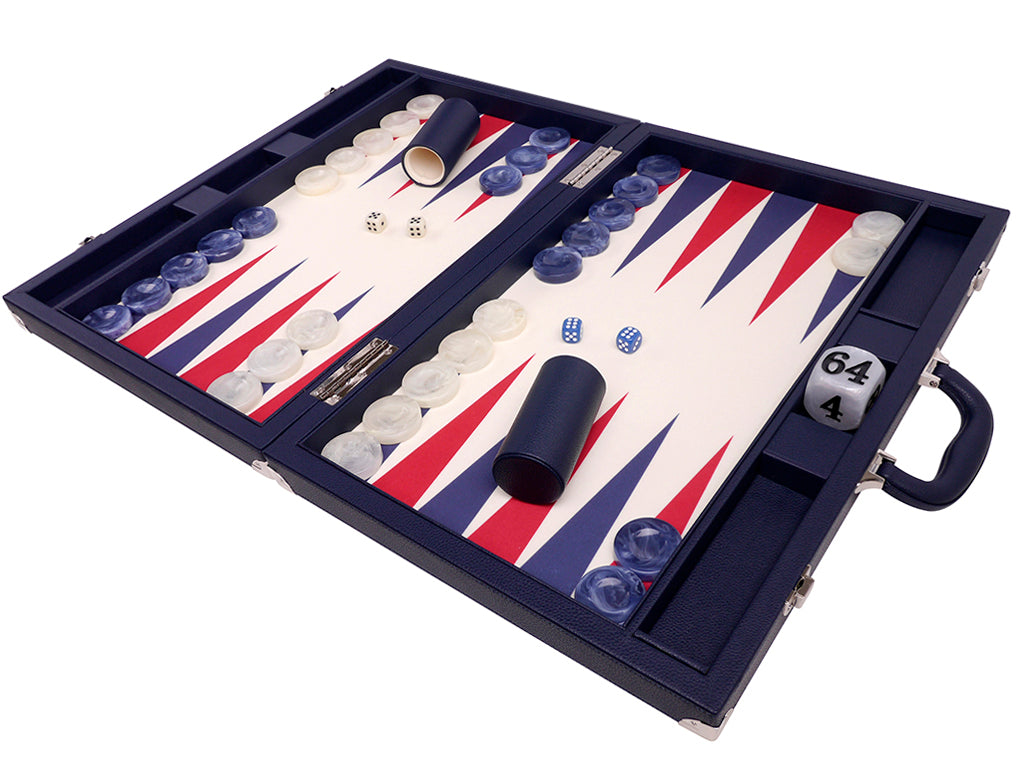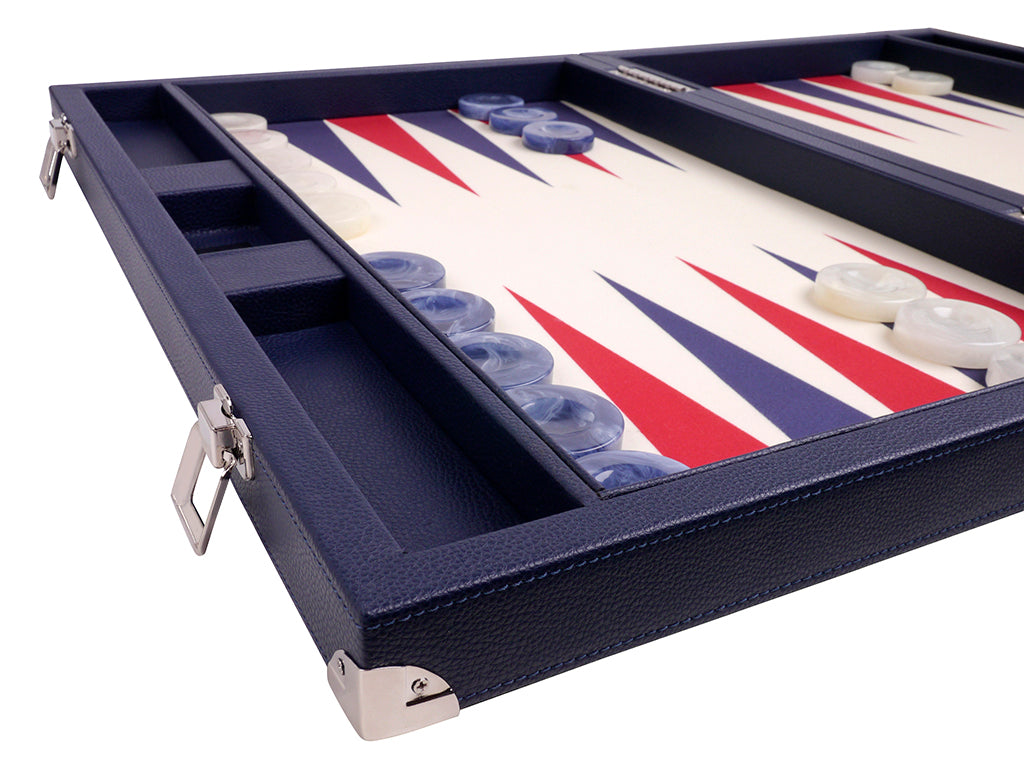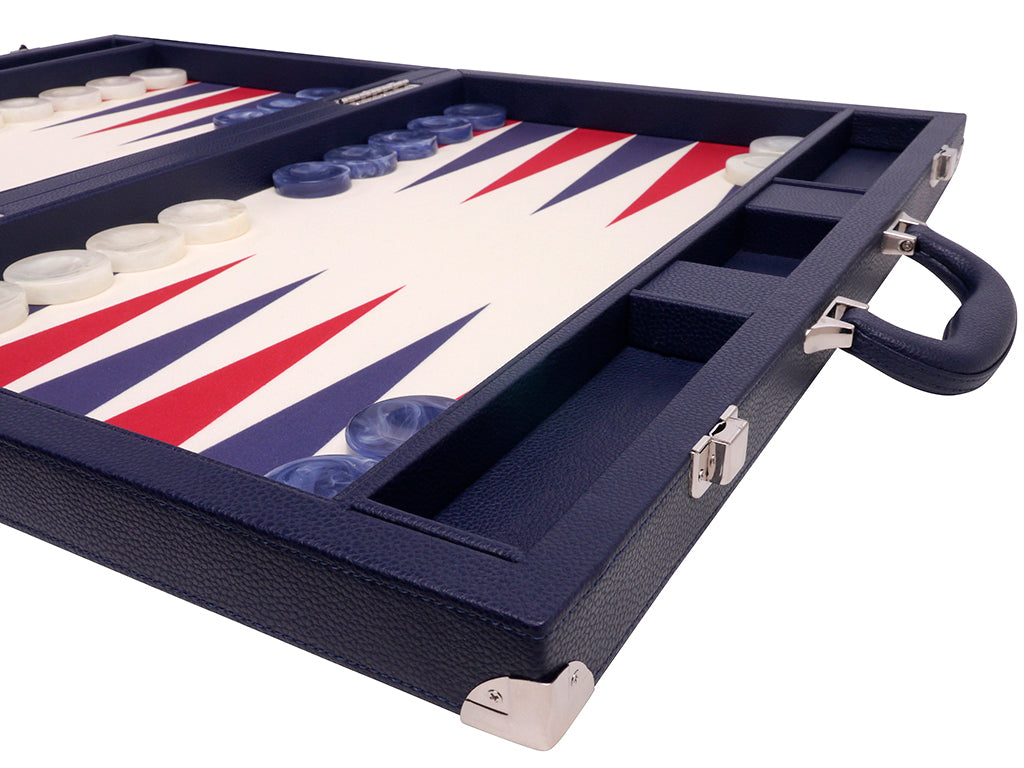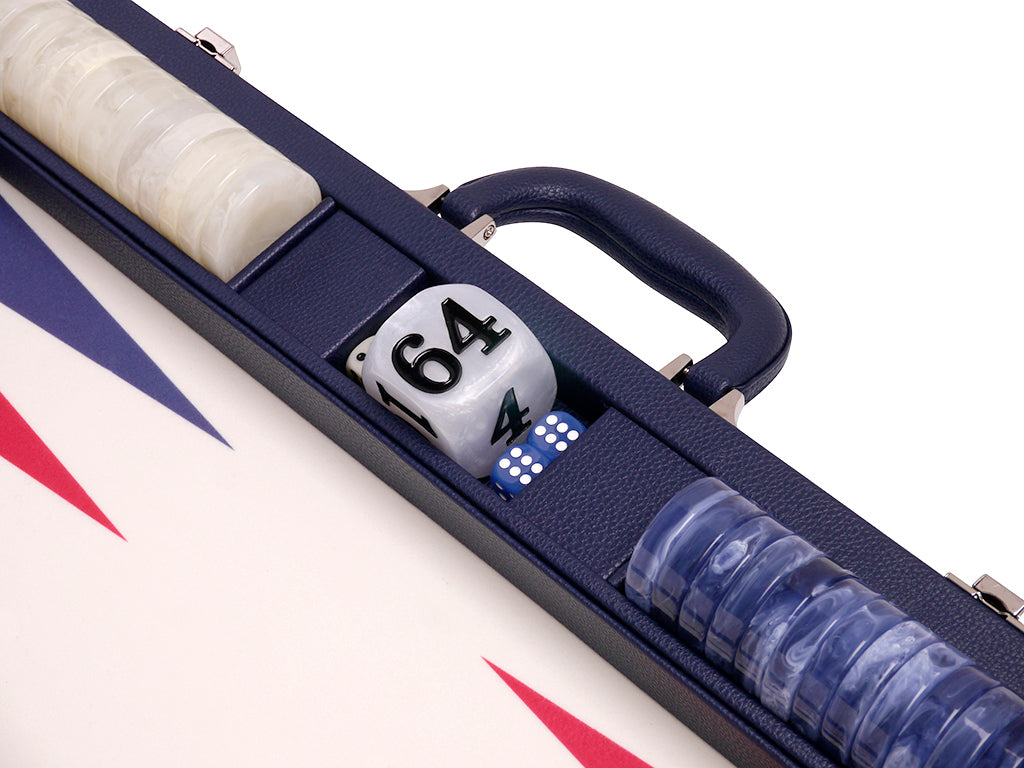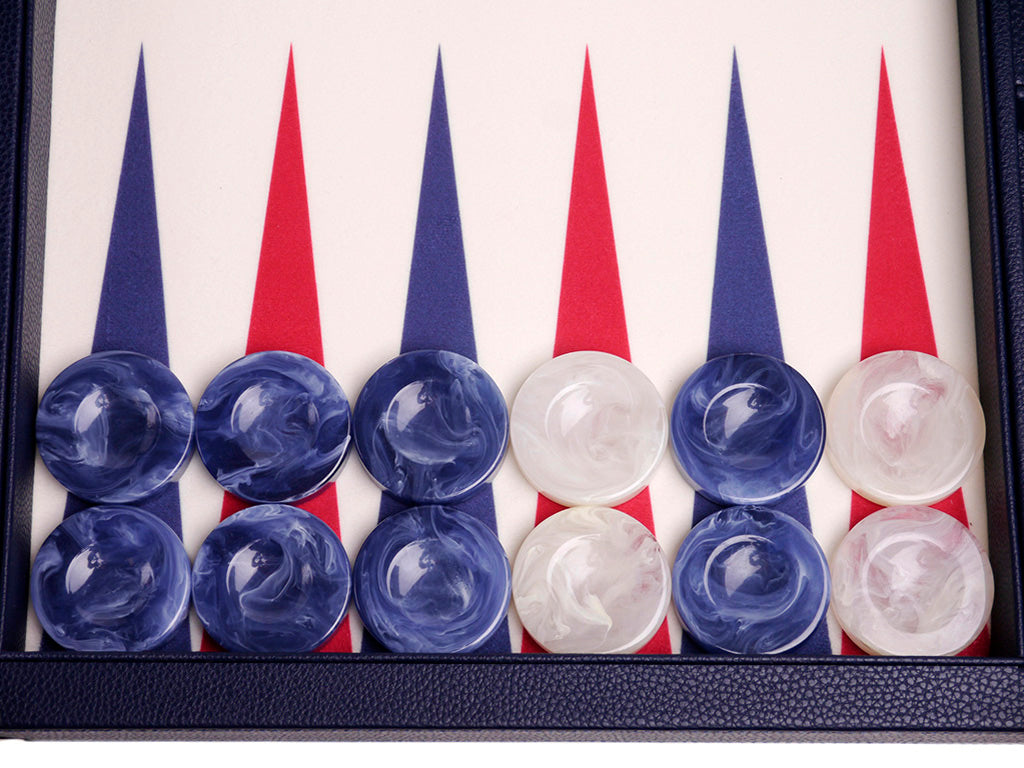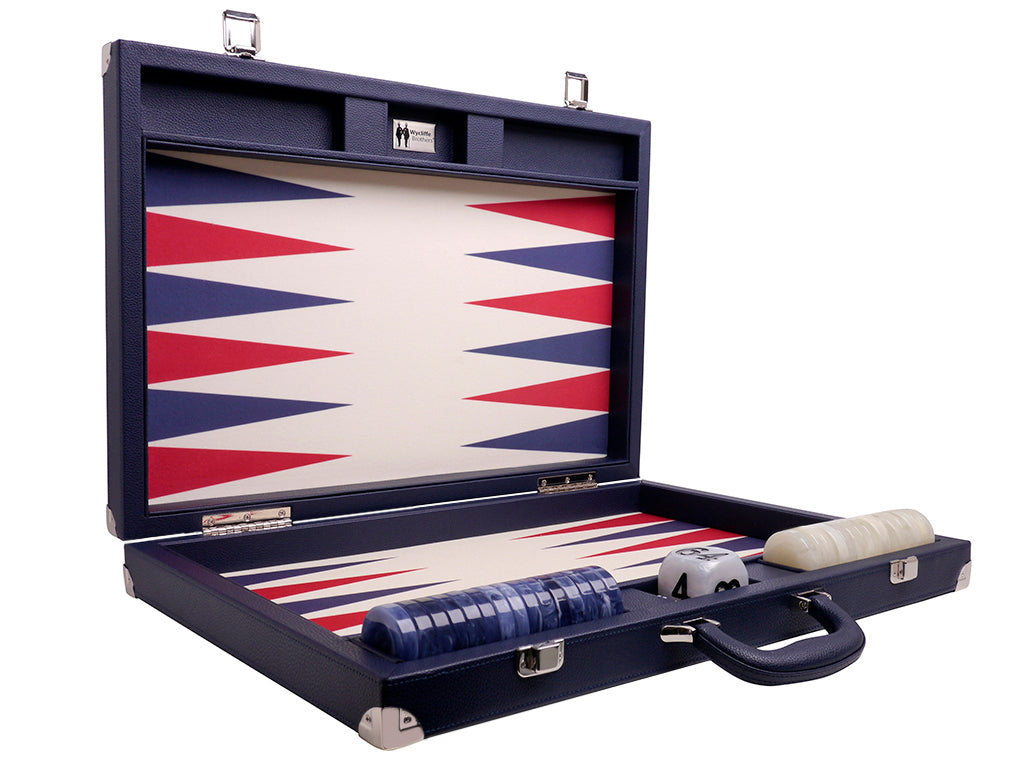 On Sale
21" Professional Tournament Backgammon Set, Wycliffe Brothers - Blue Case, Vanilla Field - Masters Edition
The all-new Masters Edition tournament backgammon sets from the Wycliffe Brothers® have landed, and they are spectacular! As with their Gen III predecessors, these stunning backgammon sets offer all the features found in high-end professional models at an affordable price.

This full-size backgammon set is built around an ultra smooth playing surface, known as V-Fiber™. Similar in texture to felt or microfiber, this proprietary material was developed exclusively by the Wycliffe Brothers®, satisfying the two most important criteria for a backgammon playing surface: 1) the checkers glide effortlessly on a luxurious and perfectly smooth field, and 2) the playing surface offers the perfect amount of friction to ensure your checkers remain in place if the board is bumped or moved.

You will appreciate handling the phenomenal marbleized checkers, so highly polished you'll find yourself transfixed by their beauty. Just shy of 1/2" thickness (11mm), these oversized checkers significantly reduce the instances of cocked dice, so you spend more time on game play rather than re-rolling your dice. If you're looking for heavy checkers, you've found them. Weighing in at a whopping 20 grams each, it's official - these are the new King of backgammon checkers!

Each backgammon set comes equipped with professional dice cups, ergonomically designed to fit your hand perfectly, and lined with the same V-Fiber™ to keep the noise of shaking to an absolute minimum. You'll also appreciate the tournament grade trip-lip, just to make sure the dice fall randomly and cannot be manipulated.

All Masters Edition backgammon sets come with the famous Wycliffe Brothers® oversized doubling cube, measuring 1-3/4" (42mm). When it's time to double, you can now do so with authority! Each case also features reinforced luggage-style handle and nickel plated locks.
Backgammon Set Dimensions:
Closed Length: 21" Width: 14 1/2" Height: 3"
Open Length: 21" Width: 28 3/4" Height: 1 1/2"

Backgammon Set Materials:
Case Material: Leatherette
Case Color: Blue
Field Material: V-Fiber™
Field Color: Vanilla
Points 1 Color: Red
Points 2 Color: Blue
Clasp Style: Nickel Plated Latch

Backgammon Stone Dimensions:
Diameter: 1 3/4" (45 mm)
Thick: 7/16" (10 mm)
Weight: 20 grams
Material: High Gloss Marbleized - Finger Dish
Stones 1 Color: Deep Cobalt
Stones 2 Color: Winter White

Backgammon Dice/Cube Dimensions:
Dice Size: 9/16"
Cube: 1 3/4"
Dice Set 1 Color: Blue
Dice Set 2 Color: Ivory
Cube Color: White

Backgammon Cup Dimensions:
Cup Height: 4" Width: 2"
Cup Exterior: Leatherette
Cup Interior: V-Fiber™ with Trip Lip
Cup 1 Outer: Blue
Cup 1 Inner: Vanilla
Cup 2 Outer: Blue
Cup 2 Inner: Vanilla
About Wycliffe Brothers

Professional Backgammon Sets at American-Wholesaler
Explore the top level of professional backgammon with the Wycliffe Brothers collection at American-Wholesaler. As a brand that specializes in crafting exquisite backgammon sets designed for tournament and professional play, The Wycliffe Brothers offer a collection that redefines the boundaries of elegance and functionality.
In this collection, discover a variety of large 21-inch backgammon sets designed for dedicated players. These sets are carefully made from faux-leather or leatherette, blending luxury and durability. The standout feature is the unique V-Fiber playing surface, an extraordinary innovation by The Wycliffe Brothers, offering a remarkably smooth texture similar to felt. This innovation sets these sets apart, creating a distinctive gaming experience where checkers glide smoothly and dice rolls provide a satisfying cushioned feel.
The collection offers two exceptional series: the Croco and Masters Edition. The Croco series stands as a testament to refined design and sophisticated gaming. The faux-leather exterior boasts a tasteful crocodile pattern, elevating the aesthetic of the set to new heights. Its meticulous craftsmanship extends to the V-Fiber playing surface, ensuring every match is a symphony of smooth moves and precise rolls. The larger 1-3/4" (42mm) doubling cube in this series adds strategic depth, enhancing the gameplay experience.
In the Croco series, the checkers themselves are marvels of design, measuring 1 3/4" (44.5mm) in diameter and 7/16" (11 mm) in thickness. Their marbleized appearance lends an air of elegance, while the finger dishes make handling them a breeze. The professional dice cups, featuring trip lips and V-Fiber lining, minimize dice noise, immersing you fully in the game. The Croco series is more than just a backgammon set; it's a statement of sophistication and precision.
Introducing the Masters Edition series, a fresh peak in backgammon design innovation. Building on the legacy of the Croco series, the Masters Edition is a tribute to excellence accessible to all. Encased in black leatherette cases, these sets feature vibrant V-Fiber playing surfaces in an array of colors, from regal purple to striking red, blue, and yellow. The marbleized checkers in this series are masterpieces themselves, boasting an oversized 1 3/4" (45 mm) diameter and a thickness of 7/16" (10 mm). Their substantial weight of 20 grams each enhances gameplay stability, while the finger dishes imbue them with practical elegance.
The endorsement of Chiva Tafazzoli, President of the World Backgammon Association, resounds throughout the backgammon community: "I highly recommend the Wycliffe Brothers® Tournament backgammon sets. There are so many things to love about these boards: incredibly smooth playing surface, enormous checkers, professional-grade cups, cube, and dice...not to mention the unbelievable price! Dollar for dollar, these are the best backgammon sets in the world."
Incorporating quality, innovation, and affordability, the Wycliffe Brothers category at American-Wholesaler stands as the definitive choice for professional backgammon enthusiasts worldwide. Experience the essence of tournament play and elevate your gaming with these exceptional sets from a brand that truly understands the art of the game.